Krakow or Warsaw: Which one Should You Choose?
So you're planning your next trip to Poland and not sure whether to visit Krakow or Warsaw? Not to worry, this post has got you covered.
Poland is one of the most underrated holiday destinations in Europe, sadly. As the sixth largest country in Europe by population, there are many reasons why Poland should be top on the list of your Eastern European itinerary. The country gives other popular tourist destinations like Italy and France a run for its money but this time at a more budget-friendly rate.
And when it comes to history and excellence in the EU, Poland has a key role to play. It is the birthplace of top personalities and influential leaders across the world including Frederic Chopin, Marie Curie, and Pope John Paul II.
With many tourist infested destinations across the country, Krakow and Warsaw, the nation's capital, are the most popular.
So if you must choose between Krakow and Warsaw – which should you visit?
A Few Words About Krakow and Warsaw
Unlike its other counterparts in Eastern Europe, Poland's capital city, Warsaw is not home to the best attractions that the country has to offer. In fact, more than 90% of the city's historical architecture was damaged during the Second World War, so what you will find is a complete reproduction of Old Warsaw. It features a vibrant cultural life with lots of art galleries and museums for history buffs. Loads of office spaces, skyscrapers, and shopping malls make the capital city a perfect spot for business oriented tourists.
Krakow, on the other hand, survived the Second World War, with many of its historical architecture left untouched. All attractions can be easily accessed by foot thanks to its location in the compact Old Town. In addition to its well-preserved nature, Krakow's proximity to many natural and cultural attractions and other touristic towns like Zakopane and Auschwitz Concentration Camp makes it a more tourist-oriented destination.
Now that you know a few basics about each city, now it's time to go into details on which city to choose
History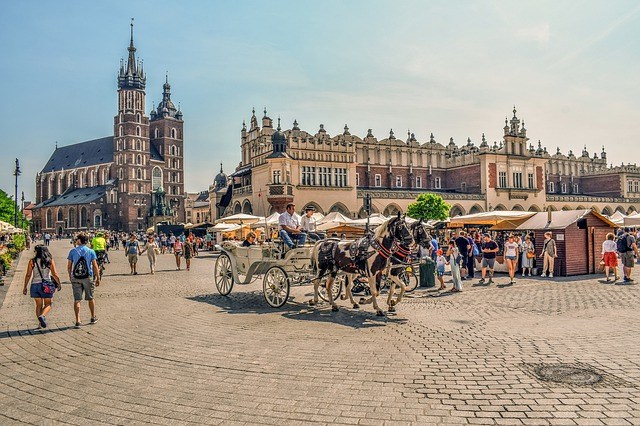 When it comes to history, Krakow might be considered the winner. This is because the city's historical architecture was left untouched during the Second World War. You can easily explore the centuries-old history of the country. The well-preserved architecture is a beauty to behold.
One of the reasons why the city escaped the damage that other Polish cities faced was because it was declared the capital during the Second World War, serving as the seat of power by the Nazis.
Warsaw, on the other hand, was completely destroyed during the war. Modern Warsaw is a complete replica of the ancient city before the destruction. It was rebuilt using pictures of the former town. So if you are interested in modern history, Warsaw has got you covered.
Both cities have their own unique history worth exploring. It is up to you to decide whether you'd like to explore a city reproduced to look like an original or explore the streets of a city with a broad range of original historical attractions.
Population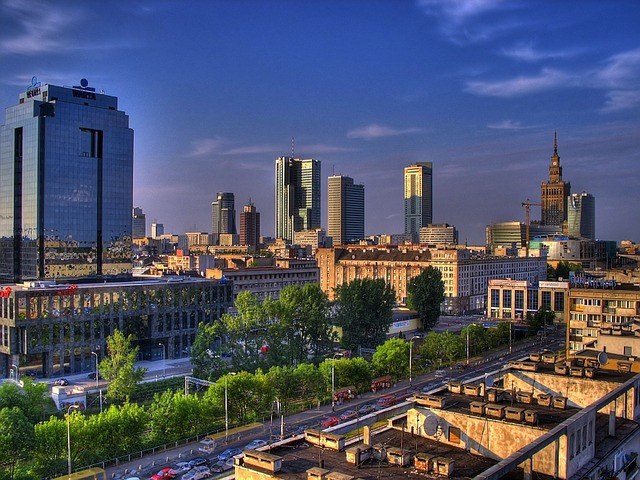 Warsaw is home to nearly 2 million people. It is the only city in Poland with the largest population that exceeds the one million mark. Krakow has a population of more than 700,000. Obviously, Warsaw is more than twice the size of Krakow by population. The downtown district in Warsaw is synonymous with high-rise buildings and gray socialist-style housing. A large percentage of the residents in Warsaw comprise young students and business-oriented people. For those looking for a more urban feel, Warsaw is the place to be.
Krakow is more tourist-oriented, with loads of attractions that cater to foreign travelers. Krakow has a more relaxed vibe with less crowded streets. This is why most foreign travelers speak more often about this city. Krakow is indeed a destination where you'll find the authentic side of Poland untouched.
Culture
Both cities are home to lots of interesting sights including castles and museums to keep visitors entertained for days.
In Warsaw, you'll find popular museums such as the Copernicus Science Centre, the POLIN Museum of the History of Polish Jews, and the Warsaw Uprising Museum. Take a stroll along the city's unbeaten path to explore the rooftop garden above the University of Warsaw Library. This is an amazing spot to escape the hustle and bustle of city life while enjoying the stunning scenery.
In addition, Warsaw has plenty of parks and green spaces where you can breathe in undiluted air. One such place is Lazienki Park, the city's largest park. From here, you can easily locate the popular Royal Castle.
Krakow has its own fair share of museums as well such as the Oskar Schindler's Enamel Factory Museum, Wawel Royal Castle, and much more. It's most popular green space for hang out is Planty Park.
Nightlife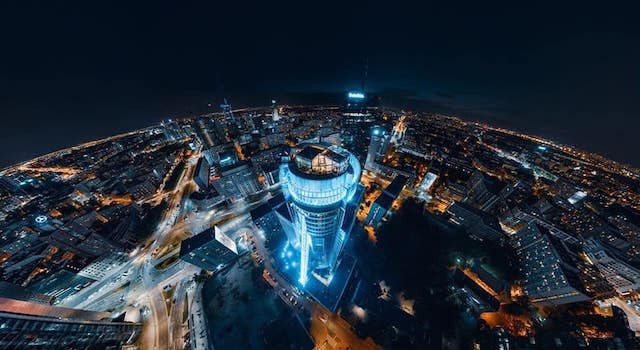 While the Old Town in Warsaw does not cater to revelers, since it's always quiet at sunsets, Krakow is the direct opposite. The city has gained popularity amongst revelers for its famous smoky cellar bars, captivating pubs, and fascinating night clubs in the heart of the Jewish district. With the range of bars and nightclubs in Krakow, visitors will be spoilt for choice.
Pricing
Poland is an incredibly affordable country, despite having one of the strongest economies in the EU. One of the reasons for its affordability is because Poland uses its own currency called Zloty and it is yet to transition to the EU's standard currency of the Euro. You will be surprised how far the USD can take you in this country. All purchases and payments are made in Zloty, the national currency of Poland. Luckily, the national currency of Poland is weak compared to other western currencies, so your budget will take cover a lot here.
In terms of budget, Krakow is relatively cheaper than Warsaw. Krakow is more budget-friendly in terms of eating out, hotel accommodation, and cost of living in general.
Warsaw is Poland's economic center. As such, eating establishments, accommodation, and transportation are a bit expensive. Though the price difference isn't significant, you'll find a large population of budget travelers in Krakow than Warsaw.
During summertime, Krakow prices tend to be on the same par due to the influx of tourists. Overall, Krakow is cheaper than Warsaw.
See also: Tips For Visiting Krakow
Food
As a city with an international vibe, Warsaw features all types of restaurants from different nationalities including India, Chinese, and Italy. In the same vein, the city boasts local eating establishments that serve the best of Polish foods. From breakfast to dinner, if you are picky when it comes to eating, Warsaw will never disappoint.
Scattered all over the city are vegetarian and vegan dining establishments. Chocolate enthusiasts will love it here as well. The city is home to a polish candy company with branches in strategic spots in the city serving delectable chocolates.
For those who would like to get a feel of authentic Polish food, look no further than Krakow. Krakow has a wider range of traditional foods than Warsaw, a destination highly influenced by international vibes and flavors.
One of Krakow's finest is Obwarzanek Krakowski. You will find this Polish specialty in virtually all street stalls across the city. Obwarzanek Krakowski is braided, ring-shaped bread that is boiled and garnished with poppy seeds. Remember to eat it when served hot, only then will you appreciate the taste even more. Other traditional treats to enjoy in Krakow include the popular pierogi, red sausage, and smoky sheep cheese.
Getting Around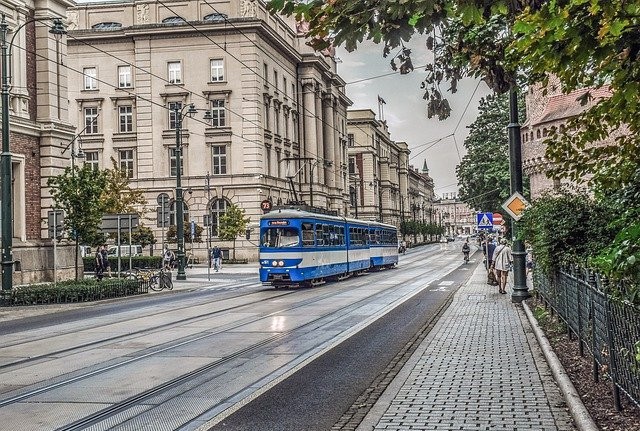 Both Krakow and Warsaw have their own international airports. It is easy to explore both cities on foot. Getting around Krakow and Warsaw is stress-free.
While Warsaw is apparently walkable, some areas are farther out in the city that will require the use of public transport. There are lots of options to choose from including trams, taxis, buses, and a metro. Need to hire a car? Check out the cheapest options here.
Krakow, on the other hand, is easily accessible on foot. Most of the attractions are located within a few meters from each other. The places you want to visit are closely located, so you might not need to use public transportation. Public transport options in Krakow include buses and a tram. With Krakow card you can enjoy unlimited travel on the buses and trams.
However you can spend days in Krakow without using public transportation, thanks to its compactness.
Which One Should You Choose?
Apparently, Krakow is the most popular tourist destination in Poland and for good reasons. From affordability and historical architecture to vibrant nightlife and impressive culture, Krakow has it all.
While it is advisable to visit both Krakow and Warsaw, if you are visiting Poland for the first time, Krakow is a great place to start. You can enjoy easy access to the top attractions around the city. Due to its compact size, the city's Old Town can be explored within a few days.
And once you return for a second visit to Poland, then make sure you head to Warsaw to explore its modern vibes.