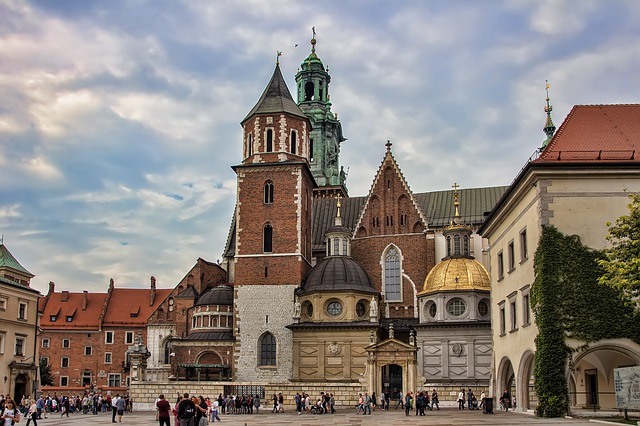 How to Spend 48 Hours in Krakow
Put your wallet away while vacationing in Krakow. It is one of the most affordable cities in Europe. It's clear to see why many travelers consider it as one of the most beautiful travel destinations in the world. It's lovely Old Town, magnificent castles, rich history, and elegant cobbled lanes make this city a delightful destination for a weekend getaway.
With just 48 hours in Krakow, the self-proclaimed Polish capital of culture, you may have to put in extra effort to see all that this city has to offer, including medieval religious sites, Gothic relics, and other lovely attractions. Not to mention the many exotic restaurants, cafes and bars, green spaces and of course the vibrant nightlife. 
To make the most of your 48 hours in Krakow, check out this itinerary. 
Day 1
Fill Up Your Tank
Krakow cafes and restaurants are hailed as some of the best in the country. All featuring beautiful interior and a lovely setting, these eating establishments not only serve great-tasting meals to get you ready for the day's events and task but are also conveniently located right in the heart of the city. No matter the time, you are sure to find chatting locals. 
Read more: 10 Best Cafes in Krakow
The Old Town
Proclaimed a UNESCO World Heritage Site in 1978, exploring the Old Town is top on the list of things to do in Krakow for many visitors. Regardless of the number of times you have been to Krakow, the Old Town has something new to offer. Filled with an eclectic mix of Gothic, Renaissance, and Baroque architectures, breathtaking Polish landmarks and monuments, market places, grand churches, and one of the world's oldest universities, it is easy to understand why many travelers can't get enough of Krakow Old Town. 
A walk through the Old Town is like a time travel to the days of old. As you explore the streets, you will come across ancient ruins and a couple of horse-drawn carriages. If you truly want to catch in on that old world feeling, this is the place to be. It would be a regrettable mistake if you fail to explore the Old Town during your 48 hours in Krakow. The main square, renowned as Europe's largest medieval town square, is, without a doubt, the largest attraction here.
Plus, the Old Town has more pubs and bars per square than any other destination across the globe. This means there is never a dull moment for revelers, as they have plenty of options to choose from. 
Read more: Exploring Krakow's Old Town 
St Mary's Basilica
Even if you are not much of an admirer of churches, this one is worth the look. Admire the magnificence of St. Mary's Basilica – a Gothic church with two towers measuring 82 meters and 69 meters, respectively. Climb to the top of the tower for a great view of the square from above. With its stunning baroque interior, well-carved roof, and stained glass windows, you will fall in love with this church. Inside the church is a 15th-century altarpiece designed by Veit Stoss, a renowned German sculptor. 
Cloth Hall
Located in the Old Town, Krakow Cloth Hall is a 19th-century building that's hard to miss. Right in the middle of the main square, this attraction once served as a major trading center of luxury goods. Soak up yourself in history while exploring the Cloth Hall. On the building's wall are paintings of the coats of arms of Polish cities. 
On the ground floor is an array of shops and stores where you can at least buy a little souvenir. If you're interested in Polish history and culture, take your exploration to the upper floor where you will find a gallery of paintings and sculptures done by local Polish artists. 
Planty Park
Explore the city's past in a romantic way wandering through Planty Park. Be sure to have a cup of ice cream handy as you stroll around the park. This ring of greenery encircles Krakow's old city, offering excellent dog spotting. It is also a perfect place to people watch. At the northern part of the gardens is the gateway to the old town, St Florian's Gate. 
Royal Wawel Castle
Your stroll around the Planty Park will lead you to the gorgeous Wawel Castle. Located on the southern part of the Old Town, Wawel Castle dates back to the 11th century. Access into the castle is free, so you can wander around, and take in the impressive views. 
Don't forget to bring your camera for some lovely pictures. A walk through the castle tells you about the history of ancient Polish kings. Legends have it that this attraction once housed a real Wawel dragon. This is why you shouldn't miss the dragon's den on your visit here. Climb to the top of the towers to catch stunning views of the Vistula River. 
Rynek Underground
Before retiring back to your hotel room, check out the Rynek Underground Museum. No doubt, this attraction takes you back to Krakow's main square, but it's definitely worth it. Hidden below the surface, the underground museum is best explored in the evening when it is less crowded. 
You'll have enough time and space to explore the underground market stalls and learn about its rich history. The museum closes around 8 pm, so plan your tour accordingly. 
Day 2
Auschwitz Tour
Although Krakow still has a spillover of attractions yet to be explored, taking a day trip out of town is definitely worth it. Anyone who visits Krakow should not miss a trip to Auschwitz-Birkenau – the largest of the Second World War concentration camps. It is just an hour driving distance away from Krakow. Getting here is easy as there are lots of convenient transport options including bus, train, taxi or rental car. Alternatively, you can book with a tour company. 
On getting to the concentration camp, you will be welcomed by an official museum guide. Originally built to serve as a barracks for the Polish military, a trip to the camp is horrific yet fascinating. No matter how much you try to picture it, you may find it hard to comprehend how it all happened. However, it's a chance to pay respect to the millions of people who lost their lives here during the holocaust and an essential reminder that such incidence should never happen again. Even though you read a lot of stories about the horrific incident, it can't be compared to a guided tour. 
A trip to these concentration camps helps you have a perfect understanding of Polish history. If you are planning to book with a tour company, it is recommended that you do that a few weeks in advance. This is because Auschwitz tour gets booked rather quickly, particularly during peak season. The average tour price costs $60. During off-peak periods, you can join a tour the same day. 
Read more: How to Visit Auschwitz? 
Wieliczka Salt Mine Tour
Another tour that's worth your valuable time is the Wieliczka Salt Mine Tour. It is the oldest working salt mine in the world. On getting there, an official tour guide takes you through the salt mines. The tour starts after a deep descent underground. You'll have to climb down over 350 steps. 
The first shafts here were carved out in the 13th century, and it's interesting to know that this cave had withstood even the most extreme weather conditions till this present day. As you descend, your guide will show you some of the fundamental steps. This tour takes around one to three hours to complete, covering only a small fraction of the mine. Plus, all artworks found here are made of salt. Also, visitors are allowed to get a taste of the walls in designated areas. Here, you will find a number of underground chambers featuring lots of artworks. 
The Chapel of St. King is unarguably the most popular gallery here. The chapel's interior is made from salt. One of the artworks that will catch your eye is the chandeliers – they are splendidly carved out from salt. The salt chambers are believed to have healing properties, providing relief for people suffering from allergic reactions and respiratory issues. This is a sight that has to be seen to be believed. 
After the tour, how do you get back up to the surface? The good news is that you don't have to walk the stairs – the underground salt mine has a lift. A tour of Wieliczka Salt Mine is popular and highly recommended. It is easy to see why over 1 million visitors come here every year. For an entirely unique experience, take a tour to this salt mine. 
Read more:  The Wieliczka Salt Mine: An Underground Cathedral of Poland
With this 48 hours itinerary of Krakow, you should feel inspired to visit this lovely city. There is plenty of things to see and do here, ranging from world-renowned attractions and quirky sights to dark history and intriguing day tours that you wish never to end. You can't leave Poland's second-largest city without trying its traditional dishes such as pierogi (Polish dumplings) – they taste really good.
The Best Travel Resources
Booking.com –  very good global booking engine, they have a very comprehensive database of locations and hotels to choose from.
HotelsCombined – hotel booking site focused on finding you the best variety of rates.  Save you time by looking at hundreds of providers.
Get Your Guide – great platform to book endless
activities, tours and tickets for attractions across the world.
Discovercars.com – price comparison and bookings website for cars, at very affordable prices, one of the best on the market.
World Nomads – If you're going for a trip abroad, it's good to have travel insurance in case something goes wrong.
Omio – great platform for booking trains, buses and flights in Europe.
NordVPN – With NordVPN you can securely access apps, websites, and entertainment platforms from anywhere in the world.