Rynek Underground Museum in Krakow
Of all the first-timers and regular Krakow visitors, only a few took the chance to explore Rynek Underground Museum. The market square is a popular tourist attraction in Krakow, with its major highlights being the Town Hall, Mariacki Church, the Sukiennice (Cloth Hall), and many restaurants serving local delicacies.
Beneath the Main Square lies an archeological site. The Rynek Underground Museum was discovered in 2005 after an archeological dig discovered the grounds hold items of historical significance.
With this discovery came the idea to build a museum that will showcase the incredible archeological findings. And in 2010, the 4,000 square underground museum, which takes visitors four meters below the main square's cobblestone, became available to the public.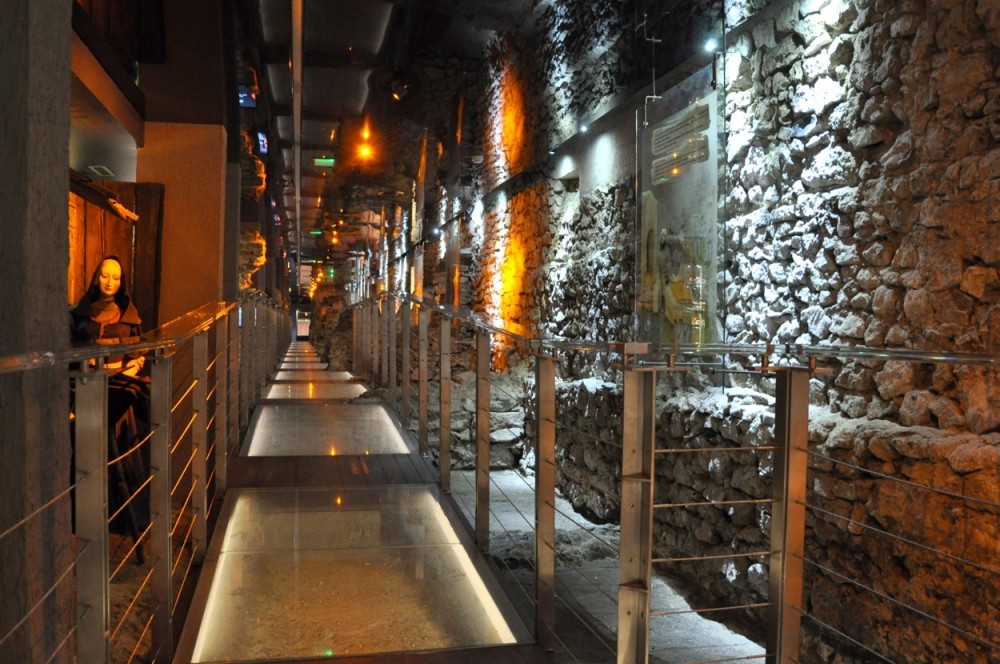 Bazylek100 Wikimedia Commons
Exhibits
Access to the museum is just at the end of Cloth Hall. 'Following the Traces of European Identity of Krakow' is one of the permanent exhibitions in the museum. The primary purpose of this exhibit is to take visitors back in time to how locals lived in Krakow in the medieval age.
The exhibits at Rynek Undergrounds showcase an excellent combination of the old and new worlds. Your tour of the museum starts with a short film projected on real-life smoke screen show locals from times pasts welcoming guests to the museum. Since its only a projection, you can put your hands through it.
Also available in the museum are the remnants of an 11th-century museum, which depicts the method for burying vampires. The museum showcases how suspected vampires were buried, preventing them from resurrecting.
Away from the multimedia exhibits, Rynek Underground also displays lots of interesting artifacts, including a wide range of clothing, coins, small knives, spears, necklaces, and many more.
All these are in display at Rynek Underground Museum. These items are believed to be used during the medieval age. As you tour the museum, you may likely come across a few skulls believed to be from soldiers who lost their lives trying to protect the city from the Swedish Flood.
Due to the popularity of the Rynek Museum, it is only limited to 300 people at a go. So in order not to miss your chance to explore this impeccable wonder, it is recommended that you buy your timed tickets well in advance.
This way, you avoid not only the long waiting lines but also the disappointment of missing out due to sold-out tickets issues. If you're visiting with your family, take your kids to the kids' room where kids get to see an automated puppet show. All in all, if you want to learn more about the rich history of Krakow back to the medieval age, Rynek Museum has a well-detailed account of what you're looking for.
Schedule
April – October:
Monday: from 10 am to 8 pm
Tuesdays: from 10 am to 4 pm
Wednesday to Sunday: 10 am to 10 pm
November to March:
Wednesday to Monday: 10 am to 8 pm
Tuesday: 10 am to 4 pm
Wednesdays to Sunday: 10 am to 10 pm
The museum is closed to the public on major public holidays and every second Monday of the month
Price
Adults: 19 PLN
Students: 16 PLN
Group ticket: 15 PLN
Family ticket: 38 PLN
Tuesday: free entrance