One of the things most tourists ponder on is how to make the most of the time they have while vacationing overseas. No doubt, there are many Krakow attractions worth visiting. However, to get the most of your time in Krakow, you need energy. Start your day with a great cup of finely brewed coffee. But the big question is, where can you find the best café establishment in the city?
For the best cafes in Krakow, check out the venues on this list.
Opened its doors in 2014, Wesola Café is one of the popular café establishments in Krakow and for good reasons. They offer great tasting coffees, and friendly, professional baristas are on ground to cater to your needs. It is a favorite meeting spot for coffee lovers.
You can choose to sit inside to admire its stunning interior featuring refurbed Bauhaus lamps and neon signage on bare bricks or find a cool space outside where you get to enjoy the cool breeze and take in the scenery as you sip away on your coffee. Customers can choose from a wide range of beans and brewing styles. The café has set a standard that other establishments are trying to catch up with.
2. Cheder Café
One of the most serene Krakow coffee shops, Cheder Café, draws on the Jewish heritage of Kazimierz district. This is the best spot for spiced, aromatic coffee. They offer a one-of-a-kind Israeli coffee with a secret mix of spices. Here, you can sample a variety of Israeli, Mediterranean, and Middle Eastern dishes.
Our Pick
Mercure Krakow Fabryczna City
Do you want to stay in a 4-star hotel that offers a luxurious experience?
Mercure Krakow Fabryczna City is the perfect place to stay while you're in town.
When you stay at Mercure Hotel Krakow, you'll enjoy a delicious meal at restaurant, relax in the fitness center, and take advantage of convenient private parking.
You'll have the best possible experience when staying with Mercure, as they offer a great value for your money, so you can save on your travel expenses.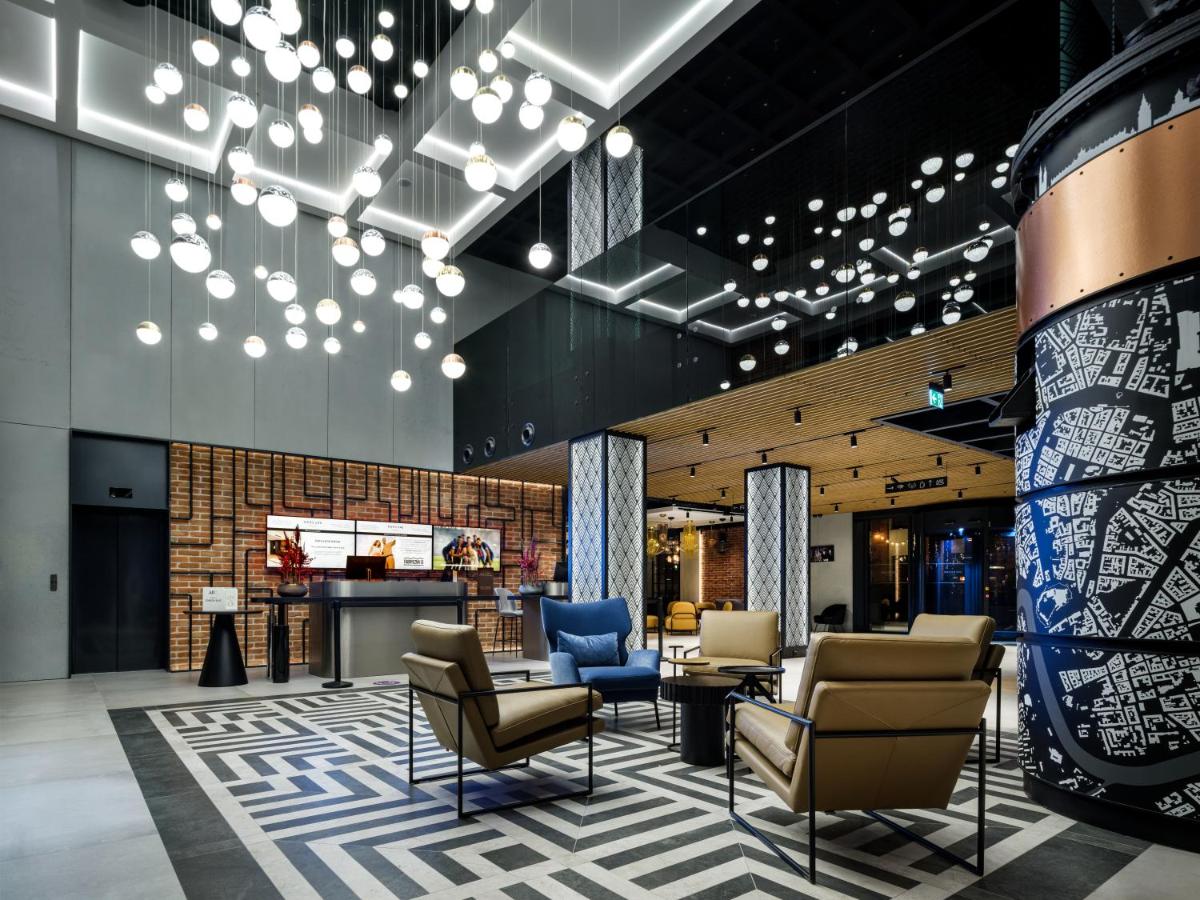 The shop also offers an array of tapas, kosher snacks, and wine. If you've been looking forward to sipping Israeli coffee without stepping on its borders, Cheder Café in Poland has got you covered.
Karma Café boasts some of the finest and friendliest Krakow baristas. Located in the heart of the city, this coffee shop prides itself on being the first specialty café to open in Krakow.
Opened 2010, the café owner, Bartek Kozina, knew nothing about coffee. However, with help from London-based roaster Union Hand-Roasted, they brought a different twist to the Krakow coffee scene. Their brewing technique is unique and loved by everyone.
It is one of the few places where they roast their own coffee. For the best experience, pair your coffee with a snack at Karma café.
There's no café like Bunkier. Featuring a garden, the café sits right in the heart of the busy Planty Park. Note that, you might have to deal with a lot of crowd at this funky and quirky café. Bunkier Café is renowned for offering high-quality tank beer and a wide range of coffee.
A few distances away is the Bunkier Sztuki Gallery, where visitors can admire contemporary art exhibitions. The café's location brings visitors closer to some of Krakow's hotspots. Start your day on a brighter mood with a hot coffee cup before heading out to explore the attractions nearby.
5. Nowa Prowincja
Once here, you will never want to leave. Nowa Prowincja has a more relaxed atmosphere. It offers a lemon tart and hot chocolate. So, it's not primarily about coffee.
The wooden interior will leave you breathless. Whether you come alone or in the company of your partner or family members, the atmosphere accommodates everyone. Back in the days, Nowa Prowincja was the meeting venue for top artists and intellectual.
6. Café Lisboa
You don't want to miss visiting Café Lisbon, particularly during the winter season. Why? Just as the name implies, Café Lisboa can virtually take you on a roller coaster ride to Portugal's sunny capital. This is the home of Portuguese coffee culture.
The blue tiles and fado music in the background makes you feel as if you're in Lisbon already. In addition to serving freshly brewed coffee, this shop also offers a variety of Portuguese delicacies, including pasties de Belem. Pair your coffee with a Portuguese tart for an experience like no other. Their coffees are incredibly tasty.
7. Café Bar Magia
Café Bar Magia truly lives up to its name. Magia means magic; hence it's not hard to see why people flock to this lovely café. They offer a magical coffee scene.
Located on the Main Square in the Old Town, this café treats you to a perfectly made hot cup of cappuccino. It is a great place to refuel while exploring the Old Town. Here, they serve a couple of Polish cuisines, such as pierogi.
8. Café tektura
Krakow Old Town is indeed an incredible place to visit. After touring the Old Town, you need to take a little break. No better place comes to mind that sitting in a café. No doubt, it is home to a couple of cafes, amongst which Café Tektura is one of the best. If specialty coffee is your thing, this is the café for you.
For a taste of delicious coffee in the heart of the city, Szara is the place to be. You might think, due to its location, that the place will be buzzing with foreign travelers, but that's far from the truth. It is one of Krakow's hidden gems, but only a few travelers know about this place.
And if you're lucky, your tailor-made tourist route might take you through its location. It is a popular spot for locals who come here for fresh-tasting coffee and freshly prepared breakfast at an affordable rate. For the best views of the Main Market Square, sit right next to the window.
10. Camelot Café
One of the legendary cafés in Krakow, Camelot Café, is located close to the Main Square. It's hard not to fall in love with this place on your first visit. It is a great place to sit for a great cup of coffee. During winter, they have a fireplace to keep visitors warm.
One important tip to know is that Camelot Café accepts cash only. So, make sure you have enough notes before visiting.
Life in Krakow is driven by its café culture. Don't miss having a cup of coffee in these charming cafes in Krakow.