Wadowice – Hometown of Pope John Paul II
Wadowice is the birthplace of one of the most significant men in Poland's history, Pope John Paul II, originally known as Karol Wojtyla. Here you will not only see his family home but also explore the church where he was baptized. Be sure to spend quality time exploring the museum built in his honor. The majority of its visitors plan a tour to Wadowice from Krakow. It is indeed a great day trip that should be considered. 
Why Visit?
Wadowice is located 30 miles southwest of Krakow. Today, this small town draws tens of thousands of visitors annually to learn about this great Polish man highly cherished by the pilgrims. The most significant attraction that lures visitors to this town is the former Vatican chief's childhood home.
Today, the house now serves as a museum exhibiting unique items. However, many visitors are more interested in exploring the Pope's room than any other room in the museum, as it gives great insight as to how he spent his childhood days. You will find outdoor gear, including skis and boots, suggesting that he spent quality time in the outdoors, exploring the nearby mountains.
Home to about 20,000 inhabitants, Wadowice is small yet vibrant and a fun place to be. Sitting in the foothills of the Beskidy Mountains and divided by the Skawa River, Wadowice never fails to impress with its charming beauty. Given the outdoor gear found in the Pope's room, you should know that this town offers an interesting spot for summer hiking, winter skiing, and everything in between.
There is more to this small charming town than tourism. A good number of successful business organizations call this place home, including Maspex, the largest food-processing conglomerate in Poland.
History of Pope John Paul II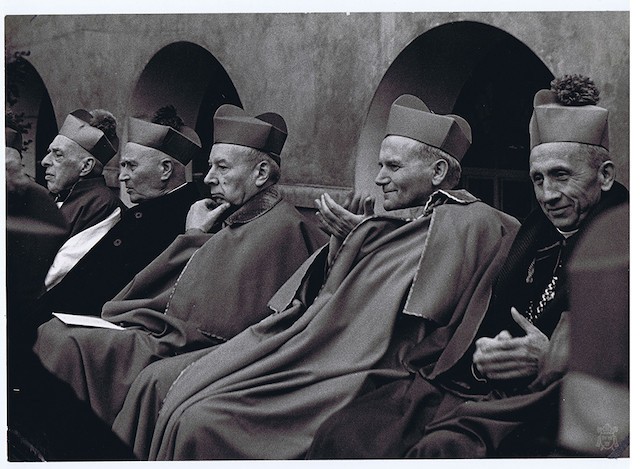 Born on May 18, 1920, Karol Jozef Wojtyla, the once shy boy, went on to pen his name down in history books to become Pope John Paul II. Also, he holds the position as the first non-Italian to become a Pope since the 16th century.
After he turned 18, he went on to study philosophy and literature at Jagiellonian University, Krakow. When the Second World War broke out, and after the Nazi's invasion, the school was shut down, forcing Wojtyla to change course by taking up menial jobs like working in a quarry and factory to survive. His family ended up as war victims.
Even though he spent almost his entire life in the church, Wojtyla enrolled in a seminary school in 1942. After the end of the war, he went back to Jagiellonian University to study theology, becoming an ordained priest in 1946.
Over time, he worked vigorously to build a reputation for himself. His hard work did not go unnoticed as he was chosen to become Pope John Paul II shortly after the death of Pope John Paul I, who died in 1978.
Even till Wojtyla's dying days, the late Holy Father couldn't get enough of his childhood days in Wadowice as well as the people who contributed immensely to his success and supported him as he journeyed through life.
Interestingly John Paul II kept a series of private diaries in which he disclosed his innermost thoughts, impressions, and concerns. They are available in the book "In God's Hand."
What to See in Wadowice?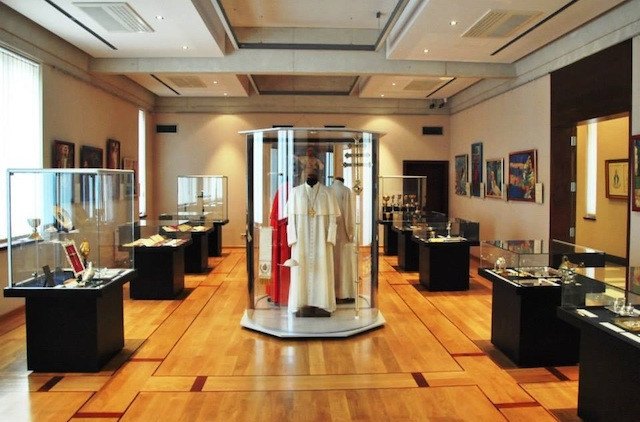 The main points of interest in Wadowice can be easily seen in a day as the majority of the attractions are crammed up in the town's small central square. One of the interesting sights is the town's main square, Plac Jana Pawla, which houses Wadowice Basilica and JPII House.
The main attraction here is the Pope's Family House, now converted into a multimedia museum where visitors learn more about the life and accomplishments of the late Vatican chief. It was in this building that he was born and raised. Inside, you will find items such as a shelf, an oven, a laundry basket, a table, tableware, lovely family pictures.
The most captivating exhibitions are the personal belongings of the late Vatican chief, including a cap, a prayer book, a rucksack, skis, and boots, just to name a few. Also, you will discover how he impacted many lives. For a chance to see the town's history, visit the municipal museum.
Within walking distance and also in the heart of the town is the Virgin Mary's Offertory Minor Basilica, the oldest church in the town. This 15th-century building is the place where Wojtyla was baptized two days after his birth date. Just in front of the church sits a massive monument dedicated to Pope John Paul II.
The interior is no different as it features a chapel dedicated to him. The Pope says his daily prayer here before its miraculous picture of Our Lady of Perpetual Help, an image that's over 100 years old. Before leaving the church, your guide will take you to some of the church's most significant aspects, including the baptistery where the future Pope was baptized.
So many faithful and tourists alike flock here to seek sites connected with the Pope. Do not forget to bring your camera so you can take pictures with the Pope's monument and in front of the church.
Getting to Wadowice from Krakow
It is quite rare to get to find a train to Wadowice from Krakow. The most convenient option is to rent a car o go by bus. It is an hour trip when going by car. On getting there, find your way to the free parking located a few miles away from the town's main square.
Public buses frequently leave from the main bus station in Krakow. A bus ride takes approximately 1 hour 20 minutes. Tickets can be bought at the bus station for a small fee. Wadowice bus station is only 10 minutes walk from the heart of the city.
Fortunately, booking with a tour company can save you some trouble. This is by far the easiest and most convenient way to get to see what Wadowice has to the fullest. Sometimes, the tour also takes you to other interesting sites that you may otherwise not know existed if you hadn't used their service.