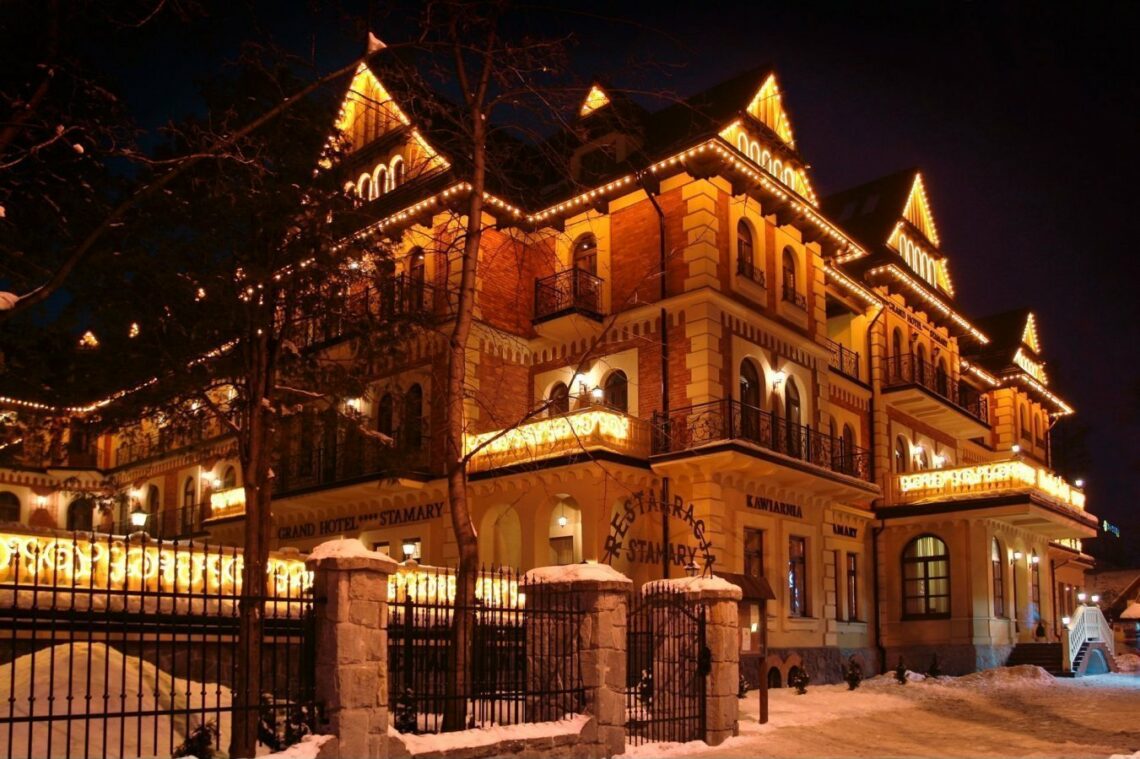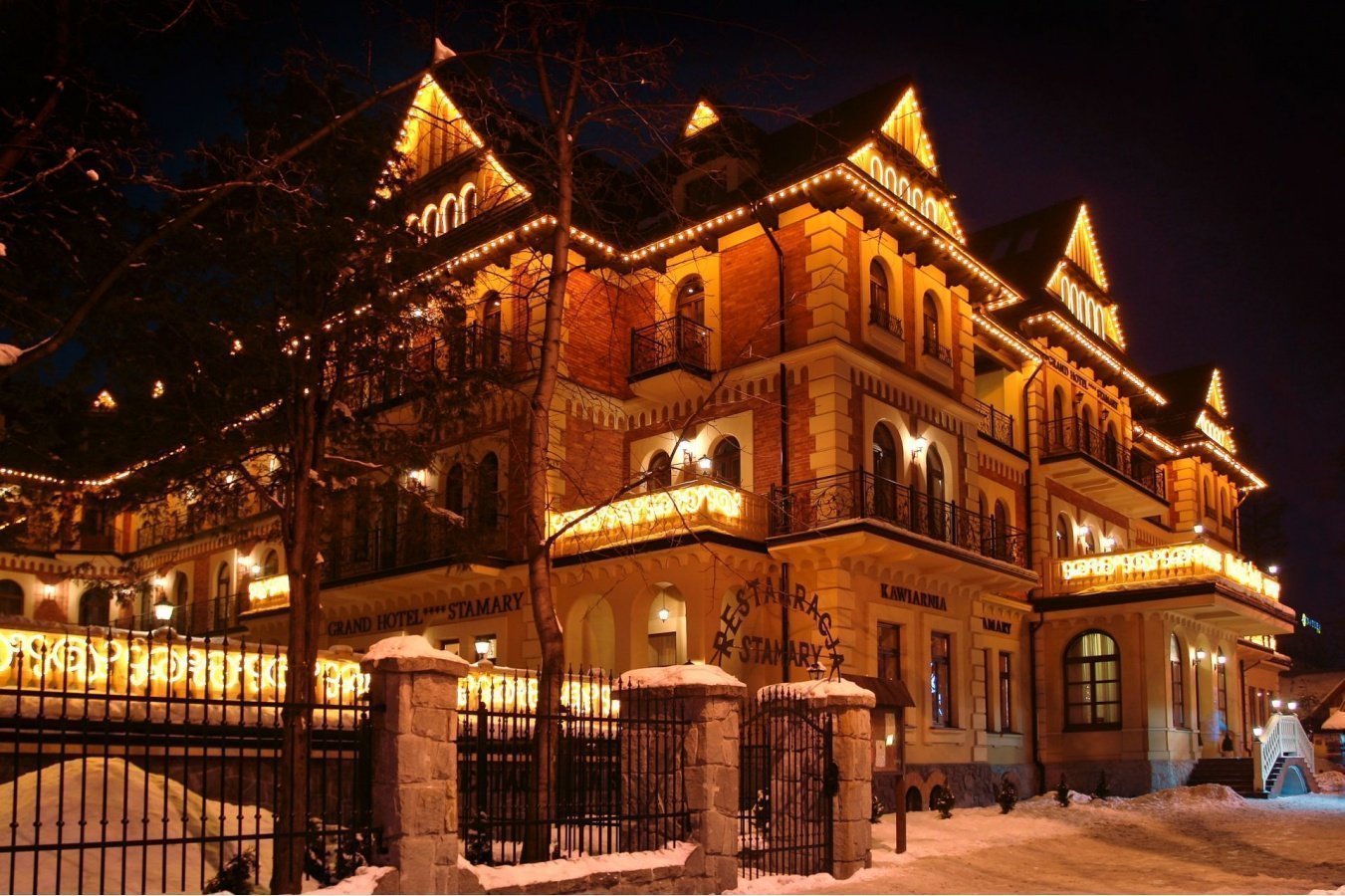 5 Best Luxury Hotels in Zakopane
When you are visiting a tourist destination like Zakopane, popularly known as Poland's winter capital, one thing that you should know is that complete comfort and satisfaction is guaranteed. You'll not feel homesick, as there's plenty on offer to keep you busy. 
Apart from the activities lined up for you, there are other ways to enjoy every moment while staying in Zakopane. One of the most popular ways is checking into one of the best luxury hotels in Zakopane. 
From stunning mountain views to the most exceptional hospitality, luxury Zakopane hotels provide just the right setting for holiday experiences that will stay etched in your heart for a lifetime. Check out the exquisite selection of Zakopane luxury hotels with chic interiors. 
Address: Jagiellonska 29, Zakopane, Lesser Poland Voivodeship, 34-500, Poland
Rooms: 136
Being one of the latest additions to the list of luxury hotels in Zakopane, Hotel Aquarion with its state of the art amenities is the place to be for those looking for maximum comfort and satisfaction. Established in 2017, the hotel promises to deliver a vacation with an unforgettable experience. 
Located within a few steps to Zakopane Aqua Park, the hotel boasts fully equipped rooms with air conditioning. Every room is fitted with a wardrobe, flat-screen TV, a work desk, a private bathroom, and a minibar. Guests can enjoy access to free Wi-Fi, restaurants, and a bar. Additional amenities include a sauna and a terrace. 
Plenty of family entertainment on offer, including a kid's club. A game of table tennis is available for sports enthusiasts. Outdoor activities include skiing, cycling, and hiking. These activities can be well arranged to suit your specific needs. This is one of the few luxury hotels in Zakopane that's pet friendly, so you can bring your furry friend along. 
Landmarks Nearby
Zakopane Aqua Park
Krupowki Street 
Tatra Mountains
Tatra Museum 
Villa Koliba 
Wielka Krokiew 
Dolina Białego 
Gubalowka Market 
Nosal Ski Center
Polana Szymoszkowa 
Amenities
Restaurant and bar/lounge
24-hour front desk
Self parking
Air conditioning
Free WiFi 
Business centre
Terrace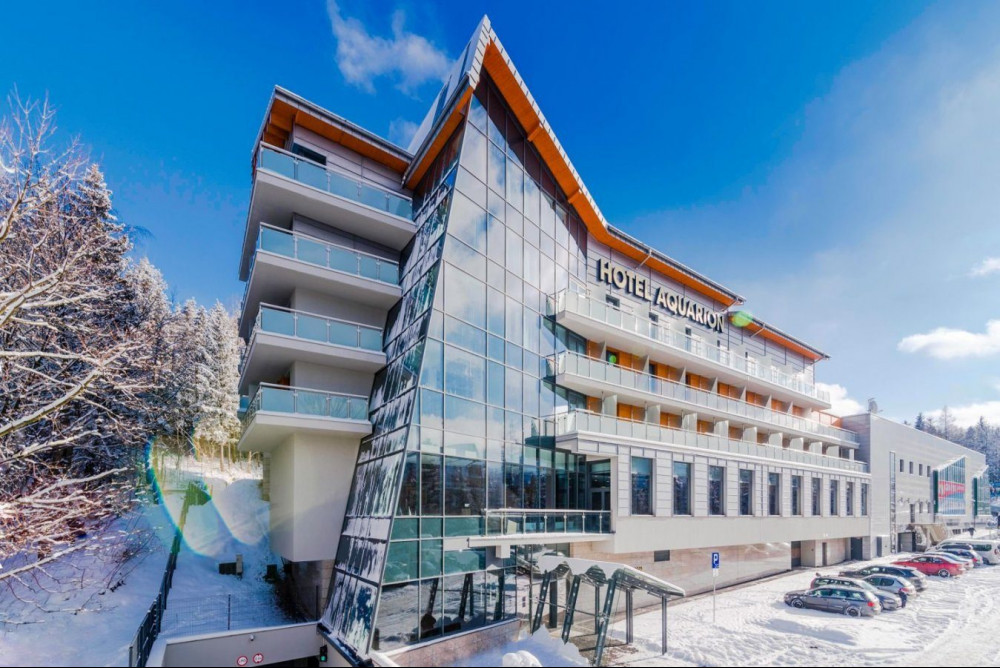 Address: M. Zaruskiego 5, Zakopane, Lesser Poland, 34-500, Poland
Rooms: 102
Located in the heart of the resort town, Aries Hotel brings you closer to the finest activities in Zakopane. The property is five minutes' walk to Krupowki, the most popular shopping center in the city. Take a splash in the indoor pool, and sample tasty local and international dishes at the onsite restaurant. 
Enjoy access to free Wi-Fi, so you're never disconnected from loved ones and the rest of the world. Each room comes equipped with a minibar and a flat-screen TV. The private bathroom comes with a bath or shower. Build your muscles and burn calories at the fitness center. Visit the spa for some pampering. 
The hotel keeps guests entertained with amazing activities onsite. You can even take it up a notch by arranging for some outdoor activities such as skiing, hiking, and skiing. Aries Hotel has proximity to an array of stores and entertainment venues. This Zakopane luxury hotel is excellent for all, including families, business travelers, couples, or honeymooners. 
Landmarks Nearby
Gubalowka Market 
Zakopane Aqua Park 
Wielka Krokiew 
Mount Gubalowka Ski Resort 
Amenities
Free Wi-Fi
Pool
Gym
Fitness center
Restaurant and bar/lounge
Conference center
Ski-rentals
Self-parking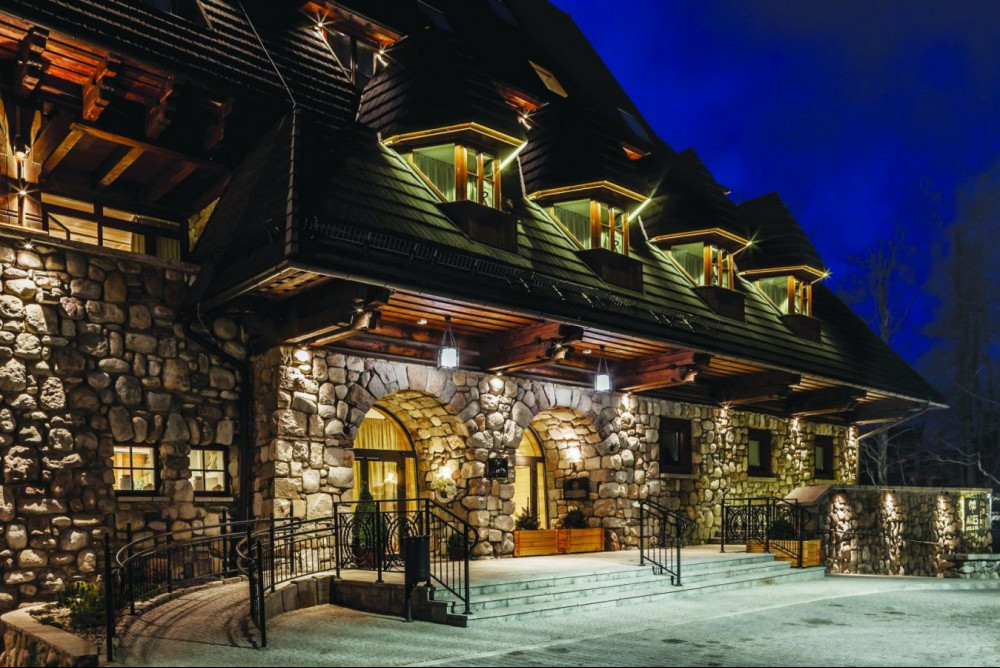 Address: Kosciuszki 19, Zakopane, Lesser Poland, 34-500, Poland
Rooms: 53
This is yet another Zakopane luxury hotel that doesn't disappoint when it comes to service and hospitality. All brightly colored 53 rooms in Grand Hotel Stamary are fitted with a satellite TV, a minibar, safe, work desk, and free Wi-Fi. Guests have access to the hotel's swimming pool, hot tub, steam bath, sauna, and spa facilities. 
Families with kids will enjoy their stay here. Kids enjoy their time at the playroom equipped with a ball pit, a slide, toys, and television with animated movies. If you're visiting during the holiday season, then you may want to consider allowing your child to sign up for children's classes organized by highly knowledgeable staff. 
The hotel is closely located to Krupowki – a high street lined with lots of eating establishments, bars, stores, and pubs. Taste the best of Polish and international dishes at the restaurant. This is a perfect place for couples and families. Love cakes? If so, check out the hotels' café for an array of delicious cakes. No pets are allowed on site. In other words, it's not pet friendly 
Landmarks Nearby
Tatra Mountains
Tatra Museum
Krupowki Street
Zakopane Aqua Park
Gubalowka Market
Nosal Ski Center
Amenities
Full-service spa
Pool
Free Wi-Fi
Airport transfer
Sauna
Indoor pool
Gym
Restaurant and bar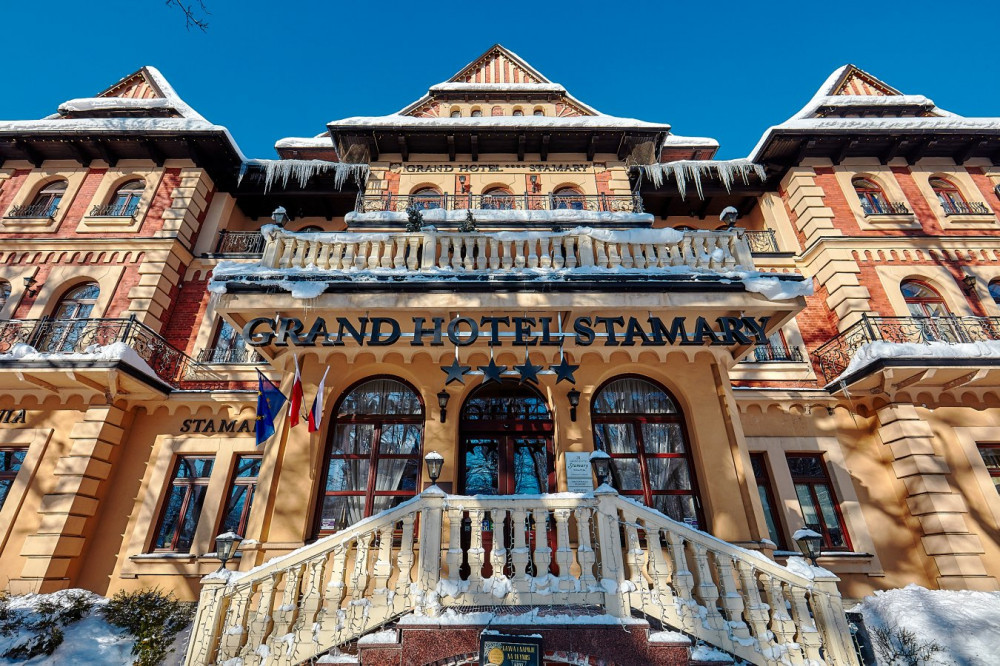 Address: Oswalda Balzera 21d, 34-500 Zakopane, Poland
Rooms: 99
Opened in 2016, Rezydencja II Nosalowy Dwor is one of the most popular luxury hotels in this scenic resort town. With a spa and ski storage space, the hotel offers a home away from home experience. Rezydencja II Nosalowy Dwor features a gym and a sauna. 
Treat yourself to fine dining at the restaurant on site. Relax with a chilled bottle of your drink of choice while enjoying the lovely scenery around you. Rooms are spacious and come fitted with a private bathroom, flat-screen television, and a balcony. Want to try outdoor sports like cycling or skiing? 
The team of friendly staff at Rezydencja II Nosalowy Dwor has got you covered. Here you can also hire the best of ski equipment. Rent a car of your choice and cruise around town on your own schedule. Learn how to ski by signing up for ski classes organized by professionals. There is a playground and a kid's club specifically designed for kids. Multilingual staff can communicate in Spanish, Russia, and English. 
Landmarks Nearby
Nosal Ski Lift 
Zakopane Aqua Park 
Tatra National Park 
Kasprowy Wierch Mountain 
Uniwersytecki Szpital Ortopedyczno Rehabilitacyjny 
Nosal Mountain 
Kolej linowa Kasprowy Wierch 
Amenities
Swimming pool 
Parking 
Spa 
Pet friendly 
Free Wi-Fi 
Bar 
On-site coffee shop 
Restaurant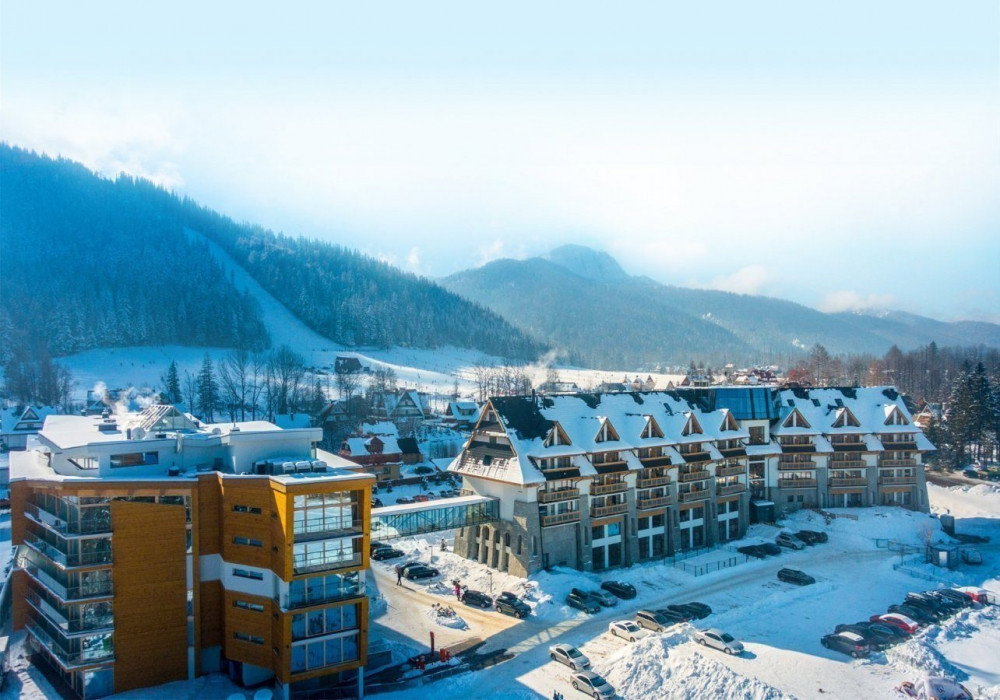 Address: Oswalda Balzera 35, Zakopane, Lesser Poland, 34-500, Poland
Rooms: 30
Gold Hotel takes pride in the fact that guests call it the best luxury accommodation in Zakopane. After a long day exploring all that Zakopane has to offer, pamper yourself to a session at the spa center. Return to your room feeling reenergized and revitalized. Staffs are courteous and friendly. 
Offering a hot tub and sauna, Gold Hotel has all the modern convenience you seek. All rooms have a flat-screen TV and a private bathroom with a shower. Bicycle storage and a 24-hour front desk are available. Choose from the many outdoor activities available, including skiing, hiking, and cycling. Unfortunately, pets are not allowed. 
Amenities
Restaurant and bar/lounge
Full-service spa
Ski storage
Sauna
Childcare
24-hour front desk
Air conditioning
Free Wi 
Free parking
Pool
Landmarks Nearby
Nosal Ski Center 
Zakopane Aqua Park
Krupowki Street 
Tatra Mountains
Jaszczurowka Chapel 
Olczyska Valley Park 
Wielka Krokiew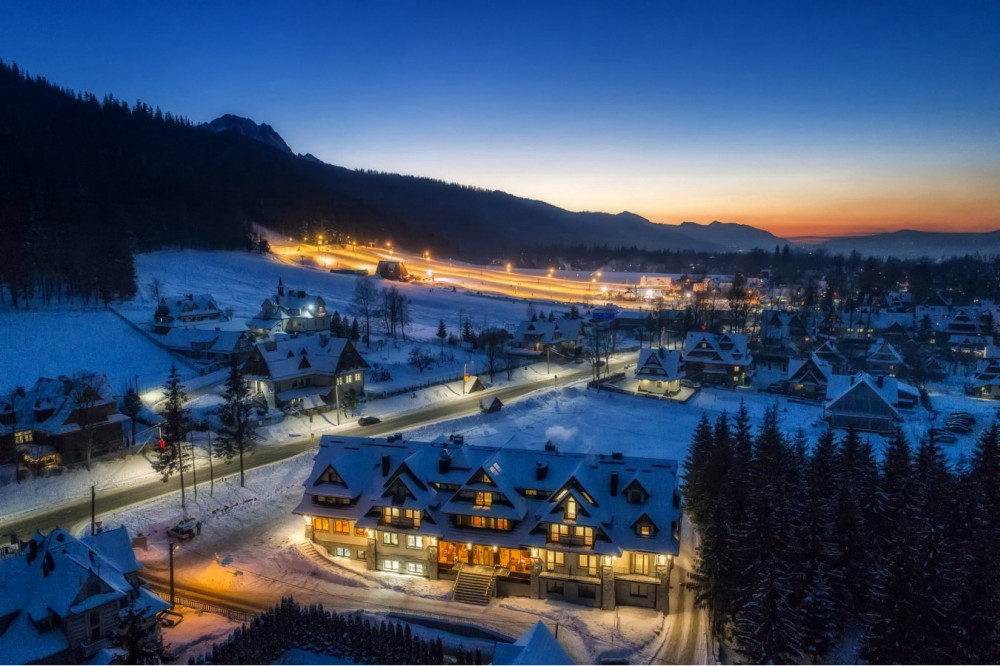 These luxury hotels won't disappoint!