5 Best Luxury Hotels in Warsaw
A trip to Warsaw, Poland, is a vacation well deserved. For the history lovers, to the adventurous souls and everything in between, there's something for every Warsaw visitor.
Prior to your trip, you will want to find the best hotels in Warsaw. While spending time in unfamiliar terrain, you'll want your accommodation to have at least a similar feel as your second home. You want to get the same comfort as you would back at home. If you are ready to splurge, it is recommended that you stay in one of the best luxury hotels in Warsaw. A 5-star hotel in Warsaw will contribute immensely to an unforgettable vacation experience.
Warsaw luxury hotels give you the chance to relive the classic era with all the convenience of modern times. If you want to experience a vacation like no other in Warsaw, check out the top luxury hotels in Warsaw to consider.

Stay in the heart of Warsaw when you book with Hotel Bristol. It is conveniently located on the historic Royal Route, a short stroll away from top attractions in the city. These include the Royal Castle, Polish National Opera, Tomb of the Unknown Soldier, and the Old Town – the busiest tourist destination in Warsaw. Its privileged location puts guests right in the middle of the action.
From here, exploring the city center of Warsaw is hassle-free. The hotel is a landmark in the city and has hosted A-list celebrities and high profiled personnel, including royal families from around the world. The 206 rooms hotel features an elegant Art Nouveau interior. No other hotel in Poland can compare to its plush interior designs.
Guests are treated to an exclusive service. A butler will be assigned to you to help with your luggage, take care of your clothe, and ensure your shoe sparkles. Don't miss the elusive pampering at Bristol Spa that uses top of the line products for treatments. And if you'd like to take an excursion or find a car rental, the front desk service will be glad to help.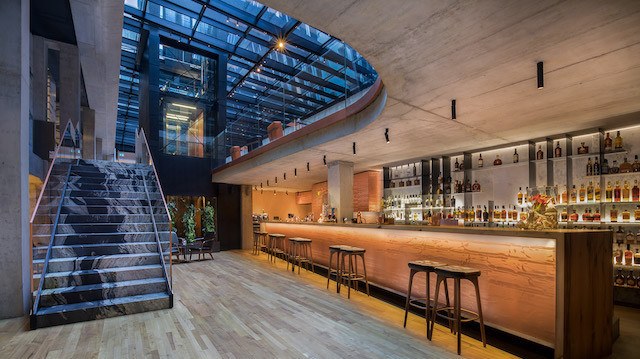 Great location in the center of Warsaw and equally impressive facilities for travelers who cherish luxury, Hotel Warsaw is a charming place to stay. Many people who travel in pairs recommend Hotel Warszawa as a perfect place for romantic couples. The hotel features a spa, wellness center, and a fitness center.
One of the hotel's stands out features is that it is located in the first-ever skyscraper built in Warsaw. Within proximity to the hotel are the best attractions, bars, restaurants, and shopping streets you could think of. The Central Station, as well as the Old Town, are a few minutes' walks away from the hotel.
All rooms feature a wardrobe, a flat-screen TV, air conditioning units, private bathroom, and a desk. Other hotel amenities include a heated swimming pool, a flower shop, and bike rental services. Friendly and professional staff members make your stay even more memorable.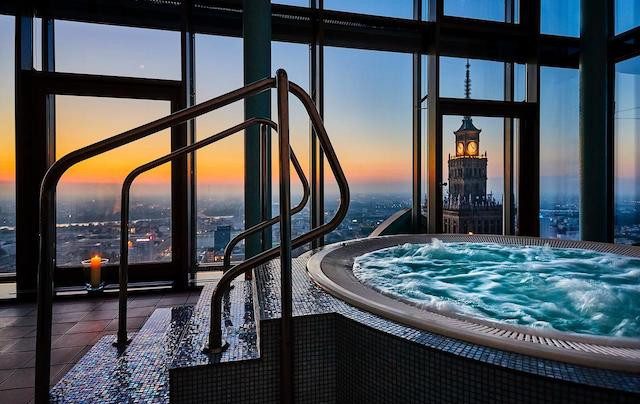 Featuring 414 luxurious rooms, InterContinental Warsaw is a 5-star hotel right in the heart of the capital. Personalized service and attention to detail raise the hotel above its competitors. The spa features a perfect blend of a fitness center, sauna, whirlpool tub, and a steam room.
At the top of the hotel is an indoor swimming pool where you can relax and unwind whilst taking in the gorgeous views of the Palace of Culture and Science as well as other attractions. All rooms come equipped with free Wi-Fi, flat-screen TV with digital channels, safes, and hair dryers.
Rooms are divided into different categories, namely Classic, Executive, and suites. For unrestricted access to a variety of drinks and snacks at the Club Lounge, book the executive rooms. The suites have more space and offer breathtaking views. The historic Old Town and the Royal Castle are 20 minutes stroll away. An excellent option for business travelers.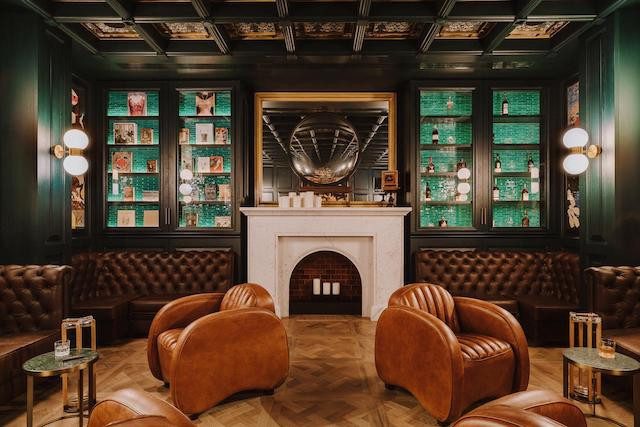 A luxury hotel with well-curated artworks dominating the lobby, public spaces, and guest rooms, Raffles Europejski Warsaw, is perfect for both leisure and business travelers. Built-in 1857 and extensively refurbished in 2017, it is one of the oldest hotels in Poland today.
It features a spa, fine dining restaurant, cigar bar, and stunning interiors. The 106 hotel rooms are further broken down into junior suites, signature suits, Grand suites, and corner suites. The Presidential and Raffles suites feature some of the most luxurious designs ever.
No matter your room's choice, there is a piece of contemporary polish art that adorns the walls. The service throughout the hotel is out of this world. Friendly staffs are on the ground to make sure that guests enjoy the best of their stay. Butlers will make sure that your clothes are well pressed. Its location in the heart of the city brings you closer to the heart of the action.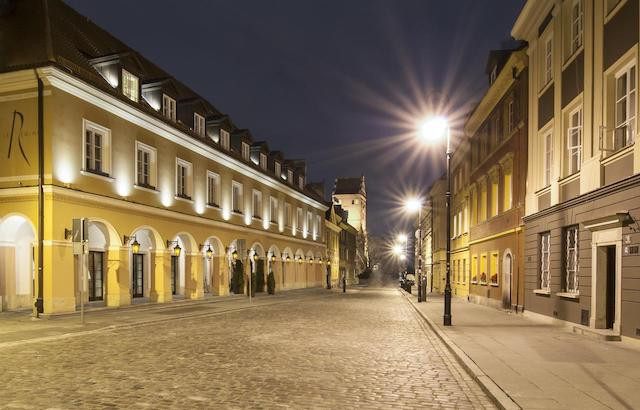 Whether you're in Warsaw for holiday or business, Mamaison Hotel Le Regina is proud to offer you one of Warsaw's most luxurious accommodation options. Located in the center of this cultural capital city, the hotel is where modern comfort resides. It has all of the amenities you would expect from a world-class luxurious hotel.
This luxury residence is a few driving distances away from Warsaw's Chopin Airport and a short stroll from the city's best attractions. Explore the cobblestone streets of the Old Town at your own pace. Travelers who wouldn't want to compromise on luxury when it comes to accommodation will find this place soothing.
Featuring 61 rooms with each opulently furnished for great comfort. Mamaison Hotel Le Regina takes great pride in being one of the unique Warsaw hotels. Book a stay at Mamaison Hotel Le Regina to experience what authentic Polish hospitality truly feels like.
Of all the luxury hotels in Warsaw, these ones top the rankings in great service delivery. From the time you step into the premises, you will feel like you are in a different world of your own