Amazing Things To Do In Zakopane & Tatra Mountains in Winter
It's the winter season, and you are wondering where to go to find the best skiing/snowboarding spots? Poland is home to many incredible places where you can enjoy great outdoor activities on a cold winter day. Still, there's one destination that gets the most attraction from local visitors and travelers alike – Zakopane.
It is impossible to be bored while holidaying in Zakopane. The town offers various kinds of attractions to satisfy every soul. In the winter, there are lots of activities to keep one busy apart from skiing and snowboard.
Other popular activities include snow scooter rides, torchlight sleigh rides, ice-skating, dog sledding, and cross-country skiing. No matter the kind of winter activity you seek, you'll find Zakopane pleasing and satisfying.
Also, known as Poland's winter capital, the town is closely located to the most famous city in Poland – the medieval city of Krakow.
The Tatra Mountains are perhaps the highest and one of the most famous mountain ranges in Poland. The best part about the mountain is their proximity to Zakopane town. You can see them even from the heart of the town.
Equally impressive is the fact that you can choose from a relatively easy walk to a more challenging one. In other words, there is something for all levels of winter experience.
So what is there to see and do in "winter capital."?
Check out down below!
1. Hike the Tatra Mountains
The Tatra Mountains are majestic, breathtakingly beautiful, a bit more challenging, but the best part is that the mountains are exclusively yours during winter. In winter, the Tatra Mountains are at its pleasantest with fewer tourists.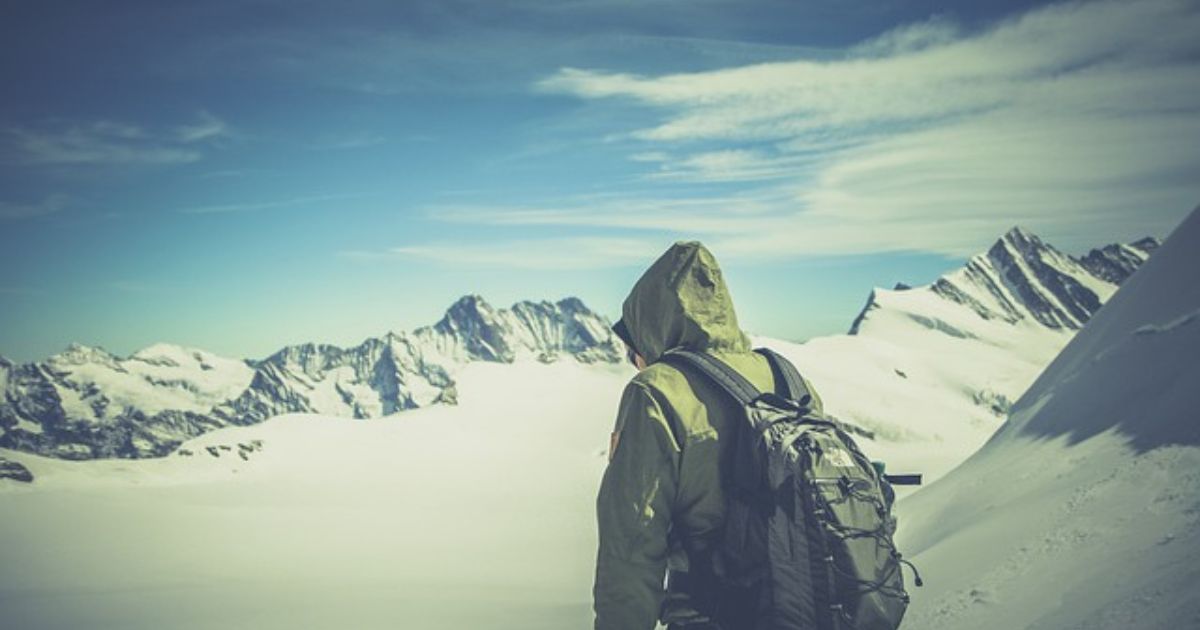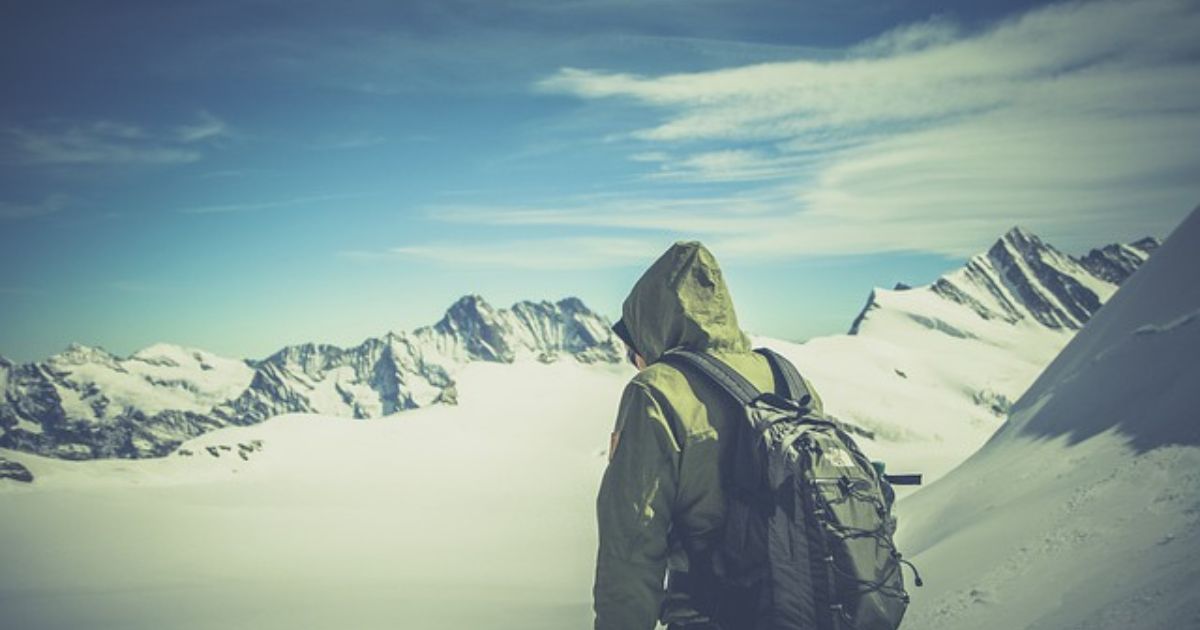 2. Enjoy Local Polish Food and Drinks
Zakopane is the place to be for the best traditional Polish food and drink, especially during winter. One of the most effective ways to stay warm despite the cold weather is taking a tasty hot mead – an alcoholic beverage made from honey and spices.
In Krupowki, you'll find a lot of bars and an eating establishment serving local delicacies and healthy alcoholic drinks. Do not leave Zakopane without tasting their local food -savory pierogi.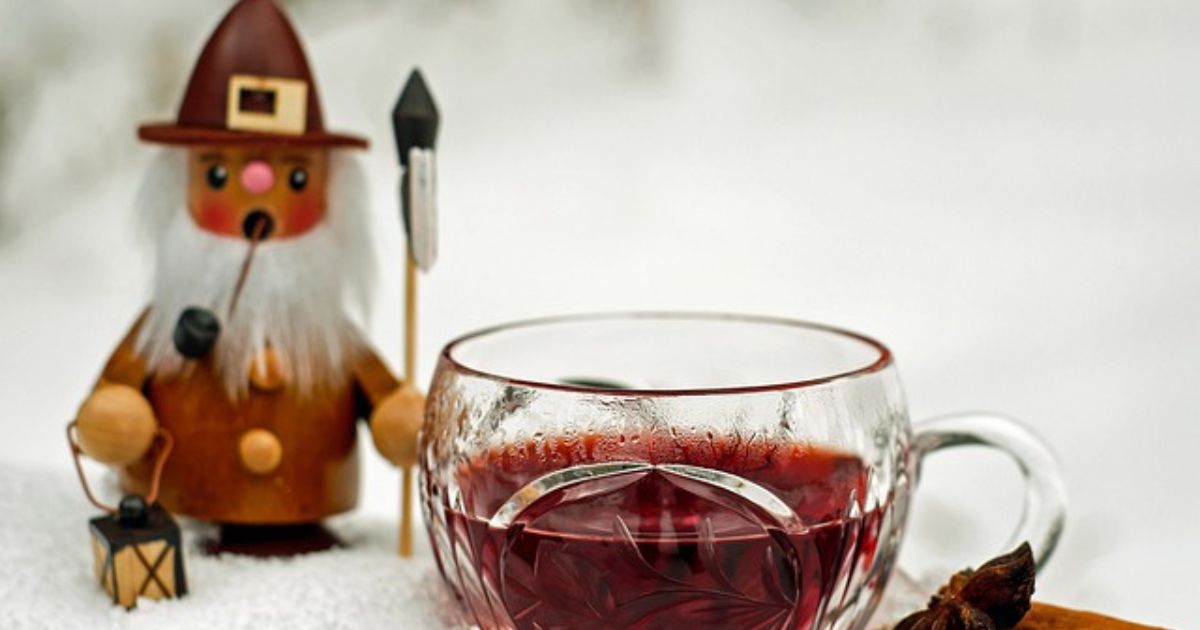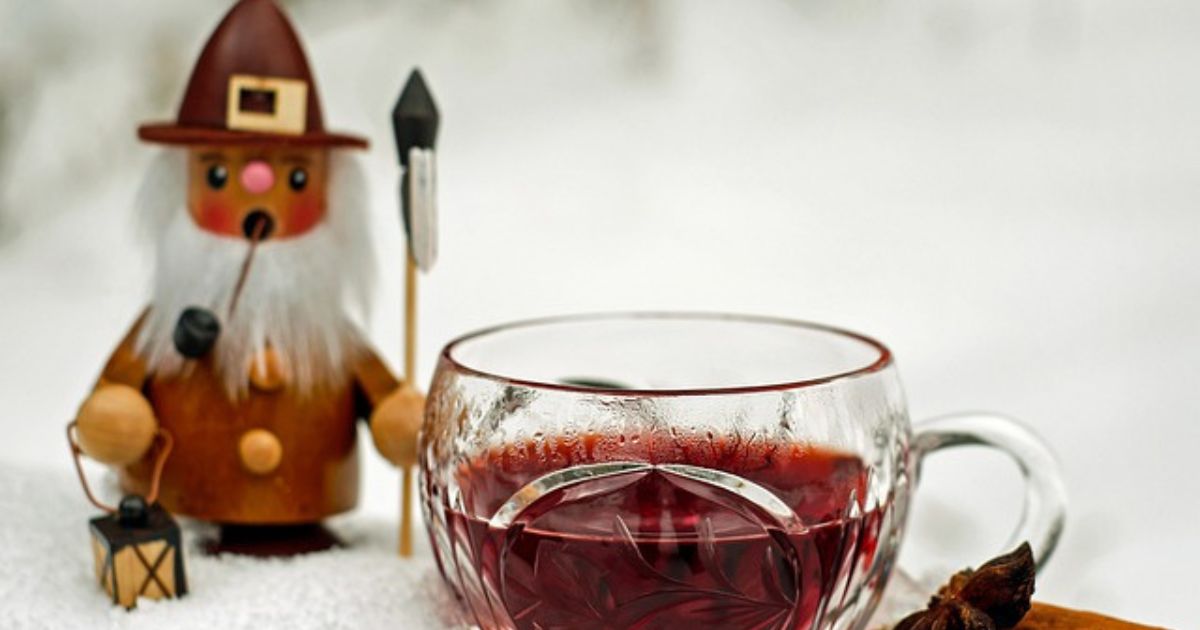 3. Krupowki Street
Visit Krupowki Street, the famous pedestrian area in Zakopane. Located in the heart of the town, around 15 minutes walk from the train station, Krupowki Street is energetic and full of life. Here, you'll find hundreds of tourists exploring the street for its unique history, mountain vibes, and lovely attractions.
The cobblestone street is lined with many wooden restaurants, cafes, and pubs. This area also has something for shopaholics. The diversity of shops will please even the pickiest shopaholic. Take in the gorgeous sights of beautiful wooden houses and architecture as you take a leisure stroll along the street.
The street burst into life in the evening, especially at Christmas. Live music performance, bright lights, street performance, and the aroma of grilled cheese fill the air. Winter is indeed a great time of the year to visit.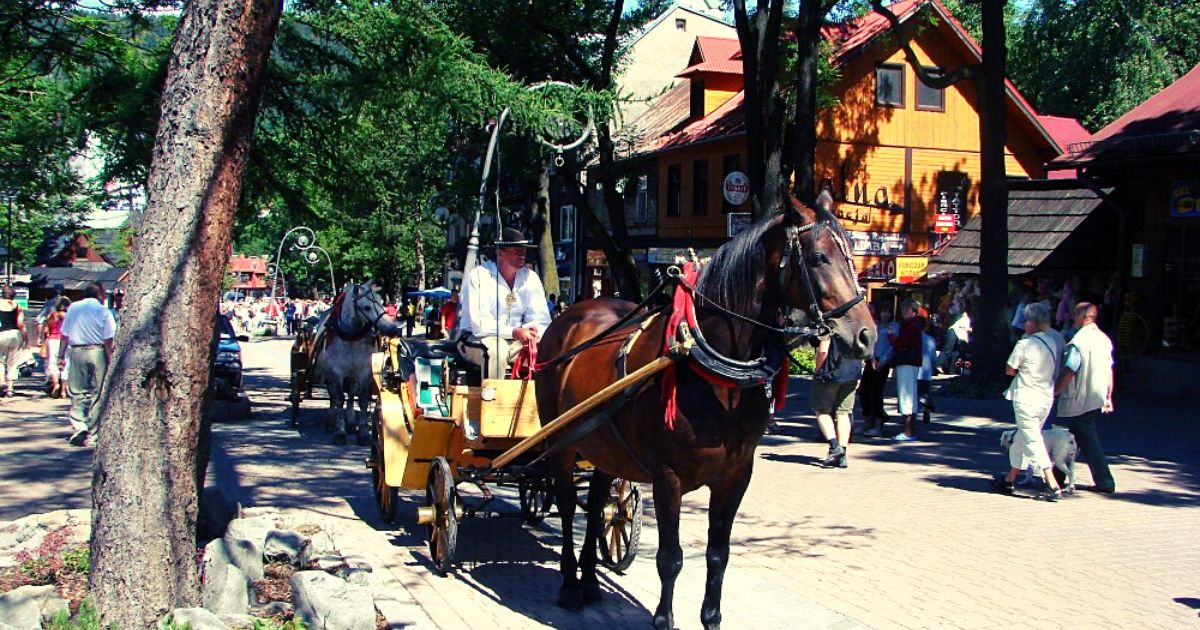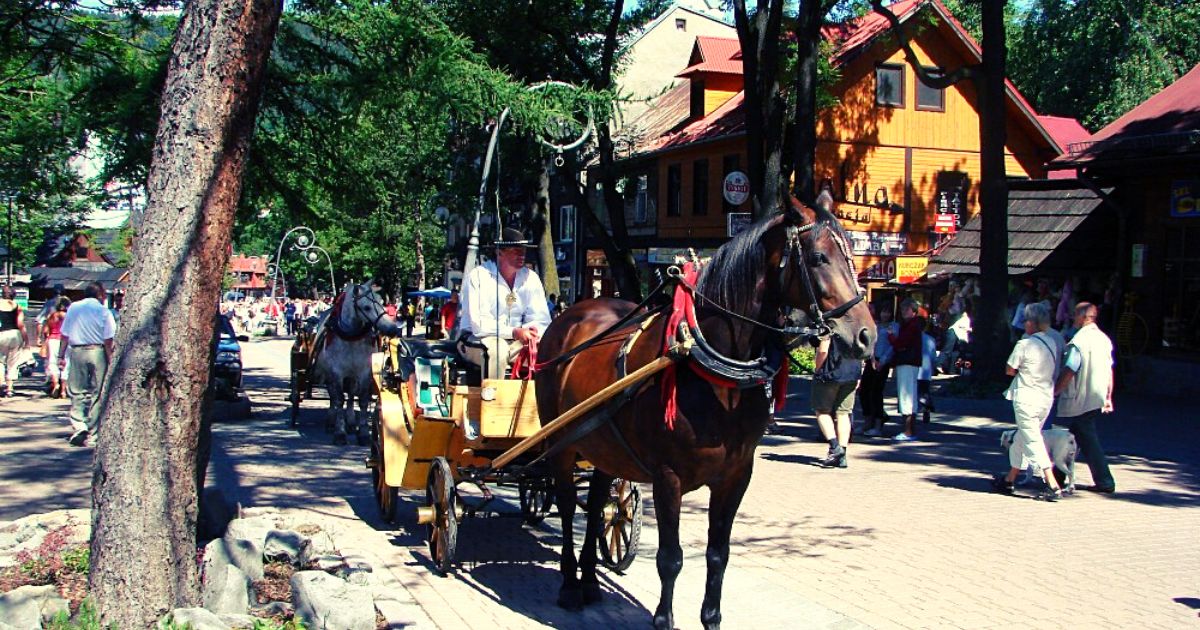 4. Koscieliska Street
Another place to admire the impressive architecture of Zakopane is to visit Koscieliska Street, located at the northern end of Krupowki Street. The area boasts some of the most beautiful wooden houses and churches in Zakopane.
Unlike Krupowki, it is less crowded and more local. Here you'll find the town's oldest wooden church and cemetery dating back to mid 19th century, Willa Koliba – the first house now turned museum built in Zakopane style.
Just a few walking distances away from the street is Atma Chata – a 19th century home of the famous Polish composer Karol Szymanowski.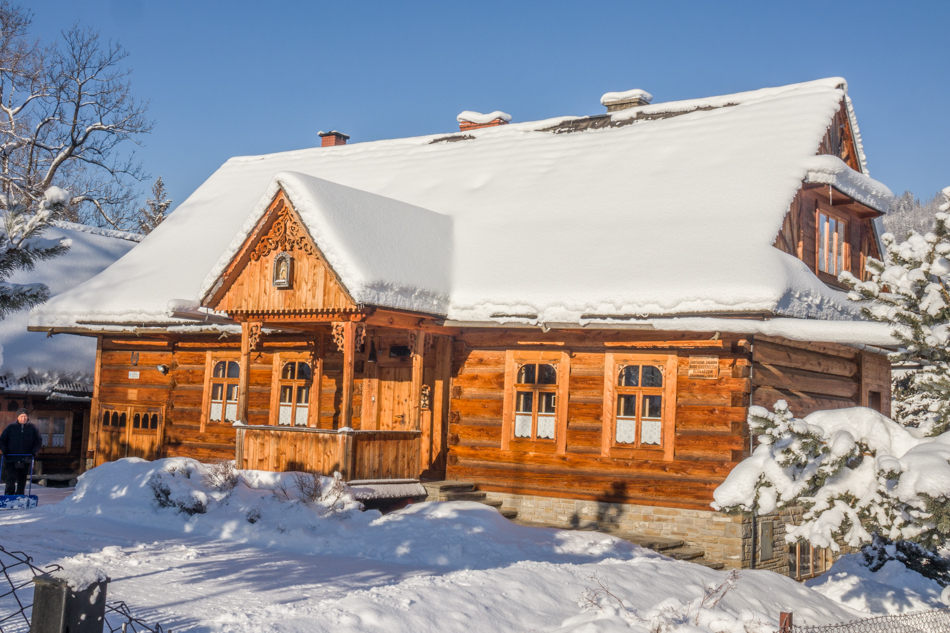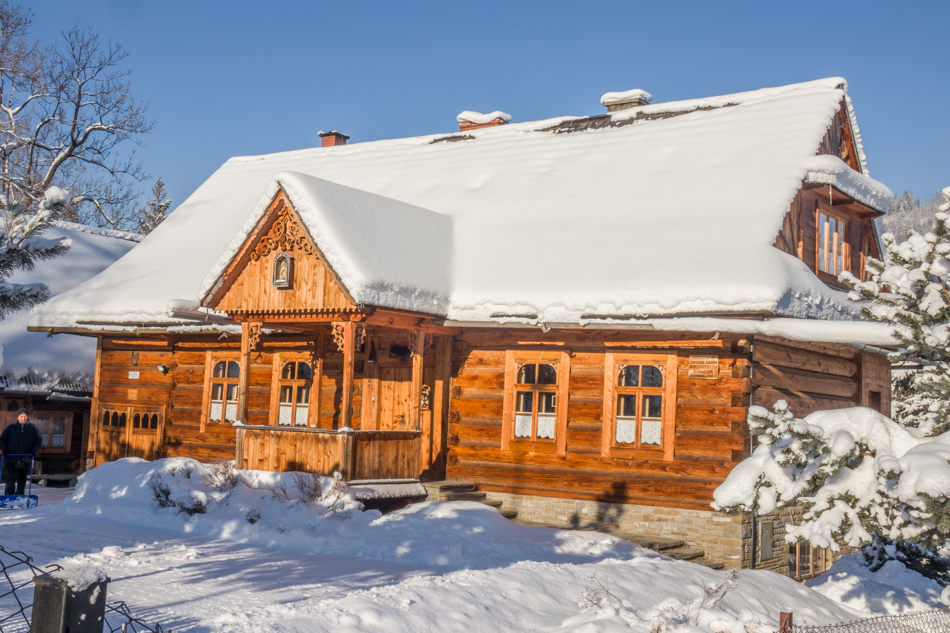 5. Gubalowka Hill
Travelers visiting Zakopane should add Gubalowka Hill to their bucket list of things to see and do. Standing at 1126 meters, Gubalowka Hill can be easily accessed from Zakopane.
The hill offers a stunning panorama view of the Tatra Mountains, Gorce Mountains, High Beskid, and Pieniny Mountains. At the hilltop are exotic restaurants and gift shops. And if you feel a bit exhausted to walk to the hill, then take a ride in a funicular train for a small price.
The winter season in Gubalowka presents a lot of exciting activities for visitors. Check out the snow park, mini ski cross, and ice-skating rink. At sunset, the flickering light sculptures will keep you entertained. This is a popular tourist destination, second only to Krupowki Street. If you'd like to return home with beautiful, handmade souvenirs, be sure to patronize the souvenirs stands scattered all over the place.
It may also surprise you to know that you can find an artificial sandy beach with sunbeds, from where you can also take in the stunning view of the mountains.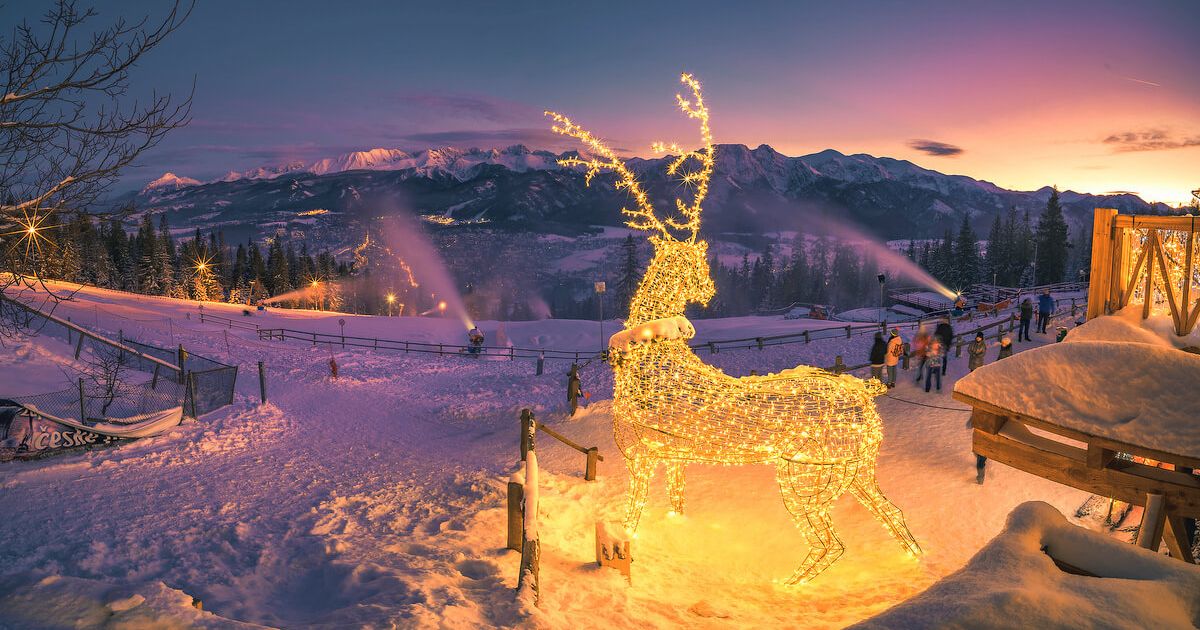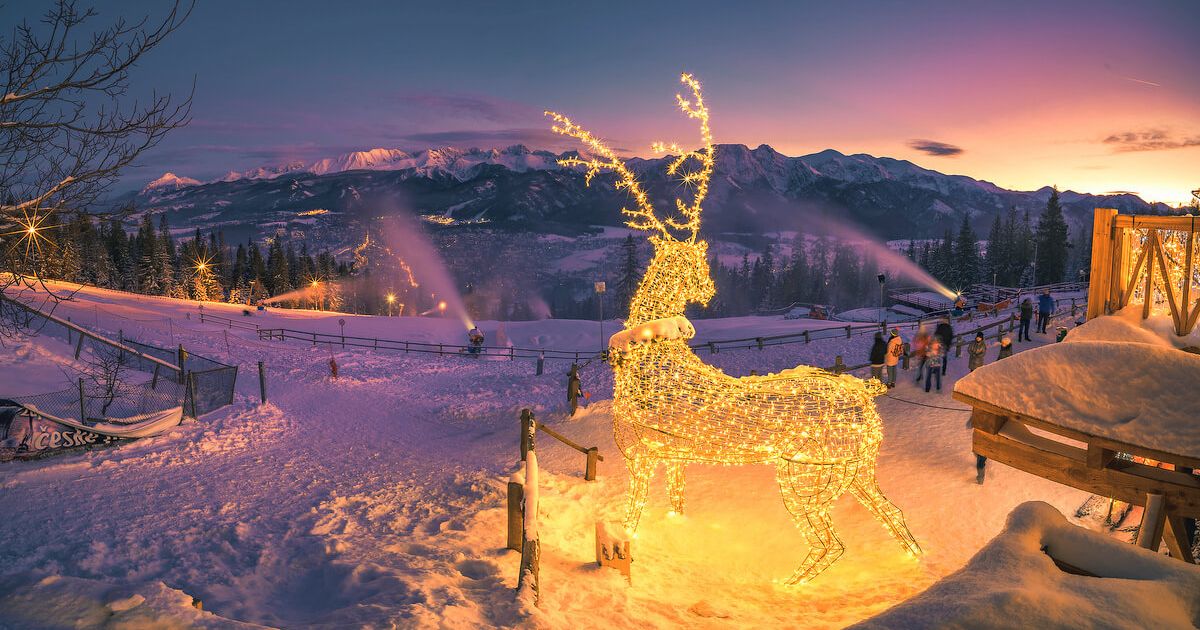 6. Relax in Natural Thermal Pools
There is nothing more relaxing in thermal pools during the cold winter season. And this is a must-do activity for every visitor to Zakopane. Within proximity to the Tatra Mountains are thermal pools using the natural thermal water.
Apart from relaxation and fun, thermal pools offer a wide range of health benefits such as relieve pain, rejuvenates the body, reduce stress, eradicates all kinds of skin conditions, boost blood circulation and restore the hormonal balance in the body.
The waters come from a depth of 2500 meters averagely below the earth's surface. Top spots for a refreshing dip in the natural thermal pool include Terms Bukovina, Terms Chocholowskie, and Goracy Potok. No matter the place you choose, you'll enjoy every minute spent here.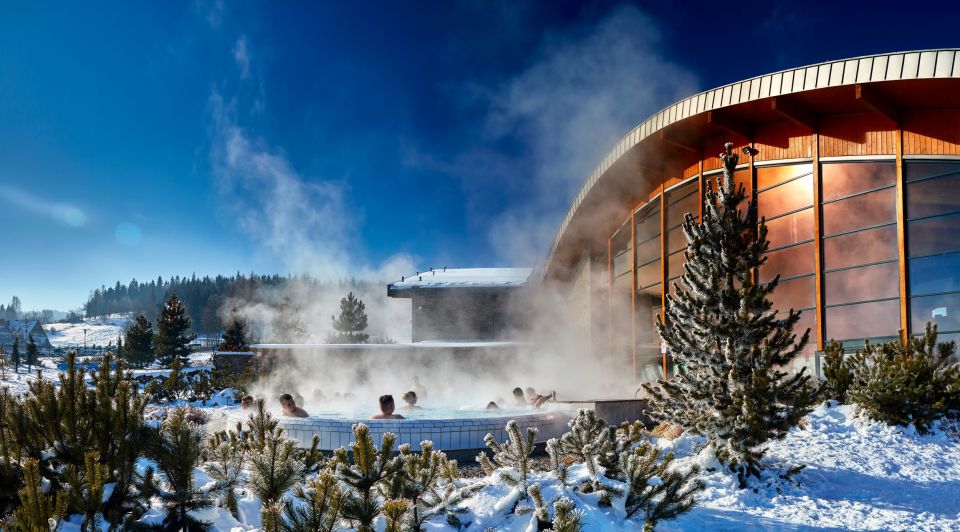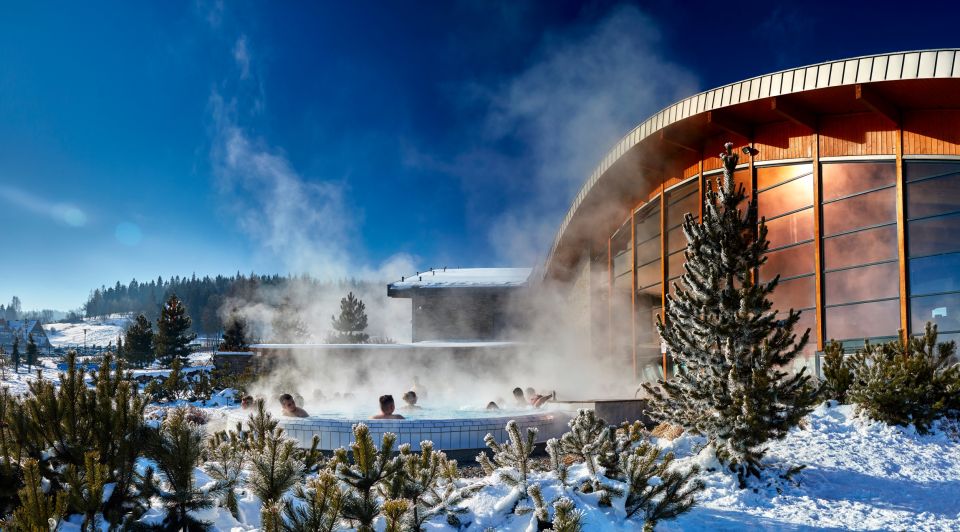 7. Tatra National Park
Tatra National Park is a haven for all visitors. The 21,164 hectares of pristine and unspoiled land features an array of stunning summits, including the Rysy – Poland's highest peak, waterfalls including Wodogrzmoty Mickiewicza or Wielka Siklawa, caves such as Sniezna which stretches18 kilometers long, and gorgeous streams.
Wildlife that calls this place home includes the gray wolf, the endangered Eurasian lynx, European otter, and many more. This is an excellent spot for lovers of wildlife.
If you are on a family vacation, then be sure to take a walk along Strazyska Valley for some impressive sights of nature. For some fantastic views of the surrounding, get to the top of the summit, and you will be stunned. This spot has some of the best views that compete favorably with those from the Tatra Mountains.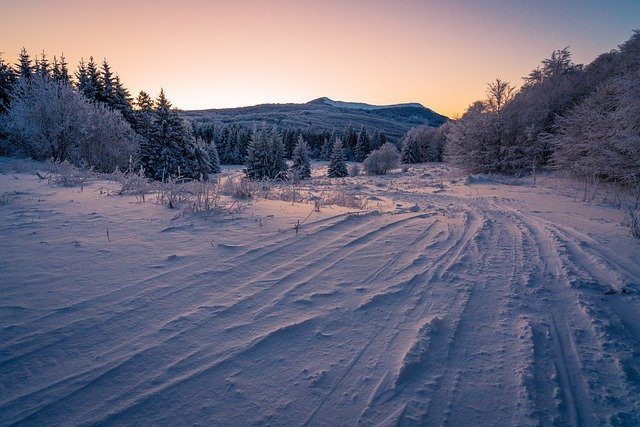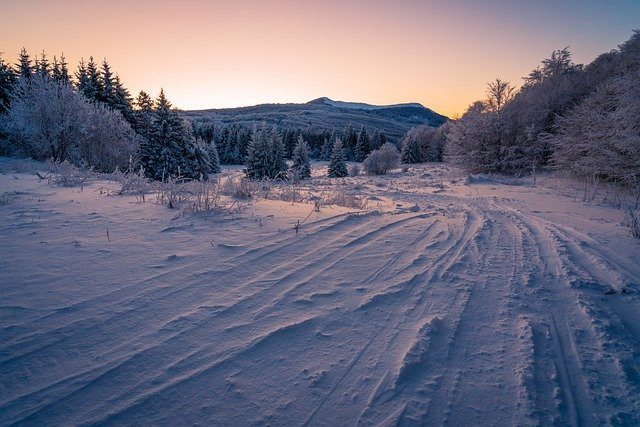 8. Skiing and Snowboarding
When thinking about the best things to do in Zakopane, you can't rule out skiing and snowboarding. There is a reason why Zakopane is nicknamed "Poland's winter capital." The city features countless skiing and snowboarding opportunities in winter.
Endless route for skiers of all levels.
Affordable ski passes and spectacular landscapes make this town a mecca for tourists who enjoy outdoor activities on a cold winter day. Zakopane has turned out to be a popular choice amongst polish and foreign skiers looking for an experience like no other.
For this reason, you'll find lots of ski resorts here. Top on the list includes Nosal, Kasproy Wierch, and Gubalowka. These places boast the best snow conditions all season long.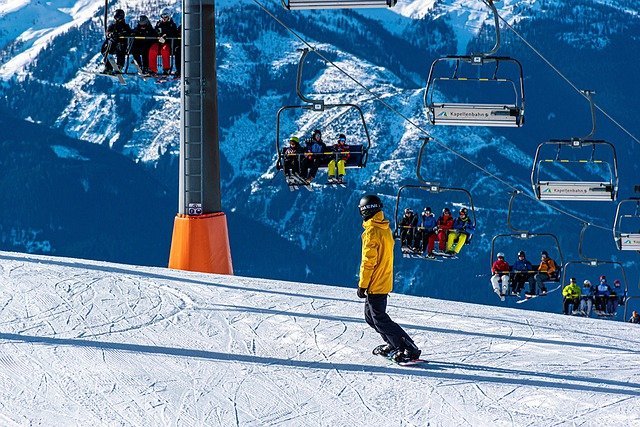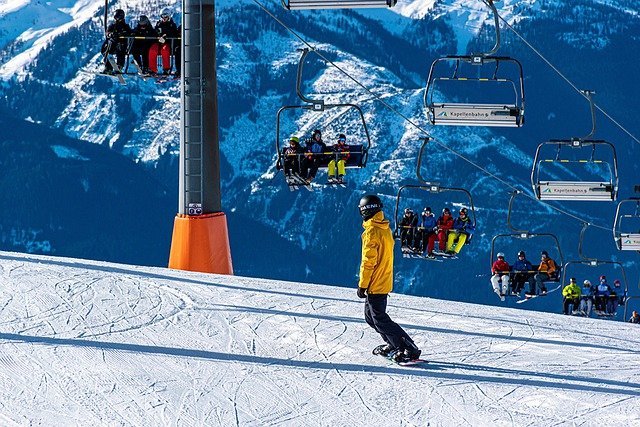 9. Hike to Morskie Oko
Hike to Morskie Oko is yet another fun-filled activity. This beautiful mountain lake exposes visitors to the real marvel of Zakopane. It is considered by many as Poland's most beautiful mountain lake. Also, Lake Morskie Oko is listed among the world's top 5 most beautiful lakes by the Wall Street Journal.
Located about 1400 meters above sea level and surrounded by majestic peaks of Tatras Mountain, Morskie Oko never disappoints. Hike to the lake is relatively easy, thanks to the asphalt road that takes one to the lake.
A typical hike to the lake from the parking lot takes no more than 2 hours, making it a perfect option for those with kids and advanced hikers looking to warm up for the more challenging hikes. Renowned for being the largest lake in the Tatras, Morskie Oko offers mesmerizing views of Rysy, Mieguszowiecki Szczyt Wielki, Zabi Szczyt Nizni and Zabi Mnich.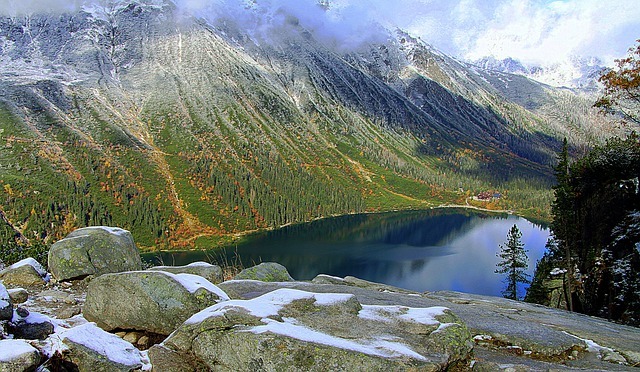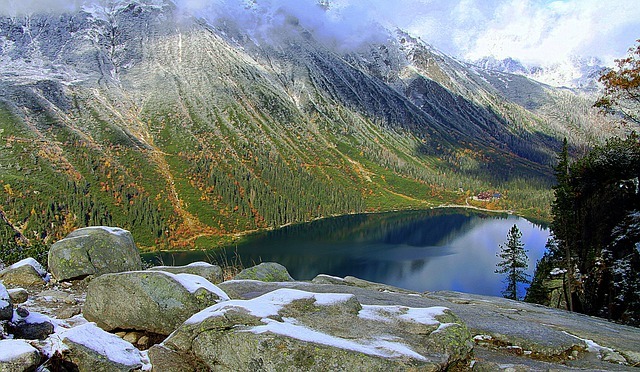 10. Snowmobile
Looking for more adventurous activities to do in Poland? Not to worry, Zakopane has got it all sorted. One of the most popular winter activities is snowmobile.
Your holiday in Zakopane will be full of fun and adventure. An hour ride takes you through the breathtaking landscape of the Tatra Mountains. There are lots of tours companies offering multi-day snowmobile expeditions. Tour prices include food, accommodation, and additional attractions or activities.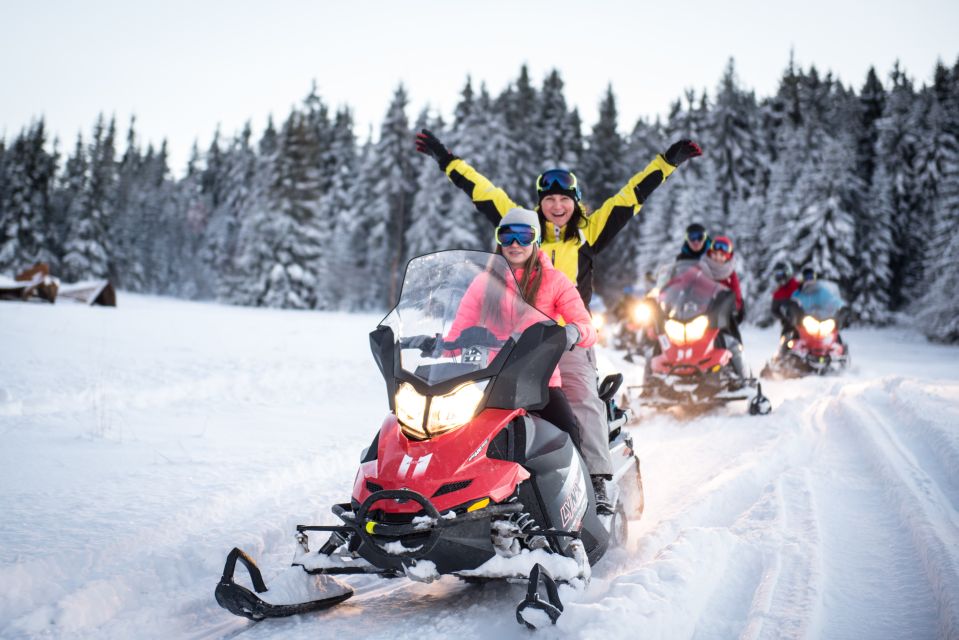 Recommended Tour: Snowmobiles & Optional Bonfire Meal
These activities will make you want to extend your vacation by a few more days in Zakopane. Since it's a small town, Zakopane can be explored on foot. The stunning mountainous views and trails are not something you'll find in the city.
Exploring the town center, tasting local dishes, and visiting typical touristic shopping promenade is never enough – delve deeper to appreciate the natural charm of Zakopane.
Winter is the best time of year to enjoy Zakopane all to yourself, thanks in part to fewer tourists. Make sure you place your trip to this spectacular destination, but just like every other travel destinations, adequate planning is key to getting the most out of your holidays.
Getting There & Flights
The easiest way to reach Zakopane is by flying into Krakow Airport (KRK). From there, you can either take a bus, train, or rent a car for the journey to Zakopane. The drive from Krakow takes about two hours.
If you're taking public transportation, there are several daily trains and buses that make the trip from Krakow to Zakopane. The journey by train takes about three hours, while the bus ride takes a little shorter.
There are also a handful of day tours from Krakow organized by local tour agents. These tours typically include round-trip transportation from Krakow, as well as various activities and sightseeing in Zakopane.
Prices for these tours start at around $50 per person. Whichever option you choose, Zakopane is easy to reach from Krakow and makes for a great day trip or weekend getaway.
Regarding flights check Sky Scanner as they have best deals and book in advance so this way you can save some pennies.
Where To Stay?
There are many hotels, guesthouses in Zakopane, but finding the right one can be tricky. Here are some tips on where to stay in Zakopane:
If you want to be close to the action, then staying in the city center is a good idea. There are many hotels and hostels located in the center of Zakopane, and you will be within walking distance of all the main attractions. However, prices can be higher in this area, and it can be quite crowded during peak season.
Our Top Pick!
Goralski Szyk Royal Resort Wellness & SPA centrum, Zakopane - Updated 2022 Prices
Góralski Szyk Royal Resort Wellness & SPA centrum is the perfect place to relax and rejuvenate. With its beautiful accommodations, world-class amenities, and stunning location, you'll never want to leave!
From the moment you step into resort, you'll feel like royalty. Spacious and elegantly appointed rooms will make you feel right at home, while top-of-the-line facilities will help you relax and unwind.
And with its convenient location, you'll be just minutes away from all the best that Zakopane has to offer!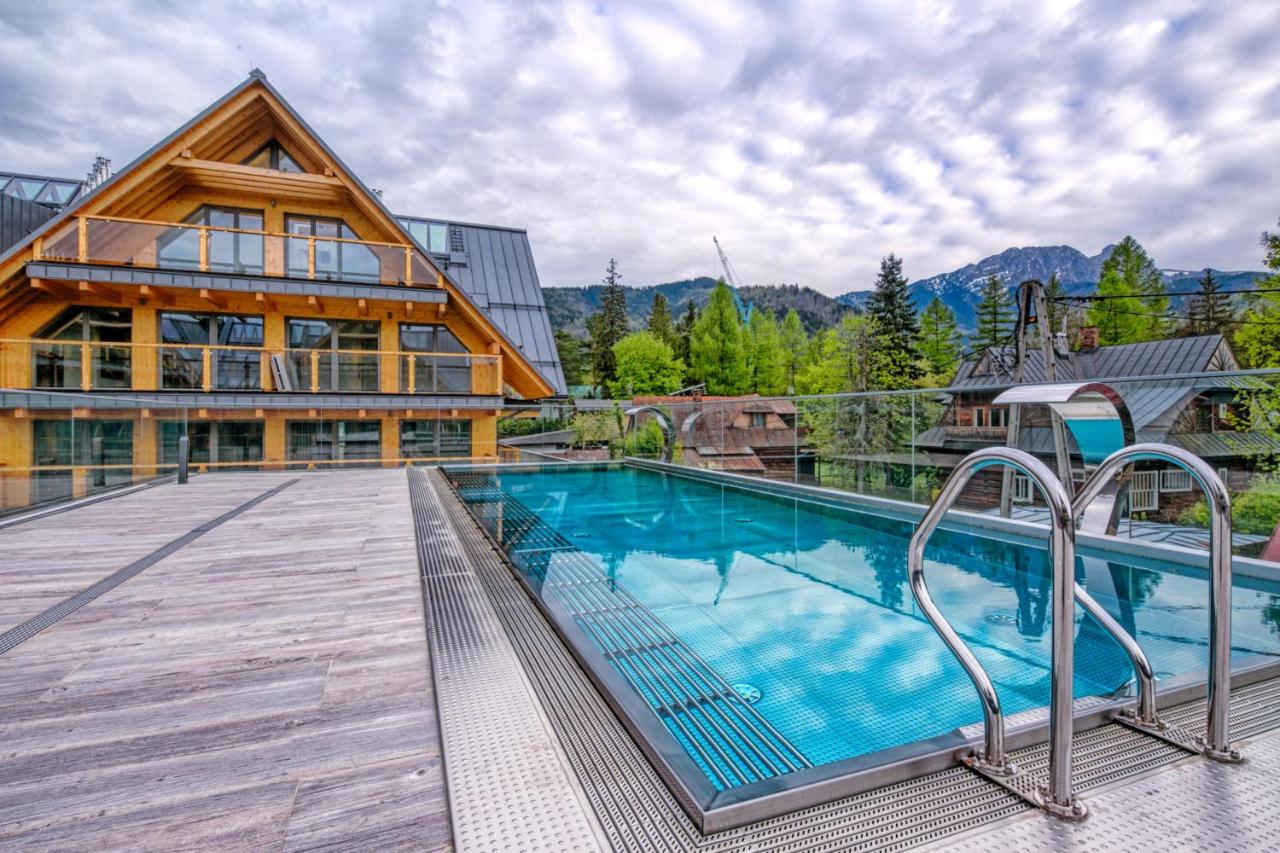 If you are looking for something quieter and more laid-back, then staying in one of Zakopane's outlying neighborhoods may be a better option. There are several guesthouses located in these areas, and you will be able to enjoy the town's tranquility away from the hustle and bustle of the city center. Prices are usually lower in these areas as well, making them a great option for budget travelers.
Whatever your budget or preferences, there is sure to be a place to stay in Zakopane that is perfect for you. With its stunning scenery and wide range of activities, Zakopane is an ideal destination for any traveler.
Find below some of best option for you!