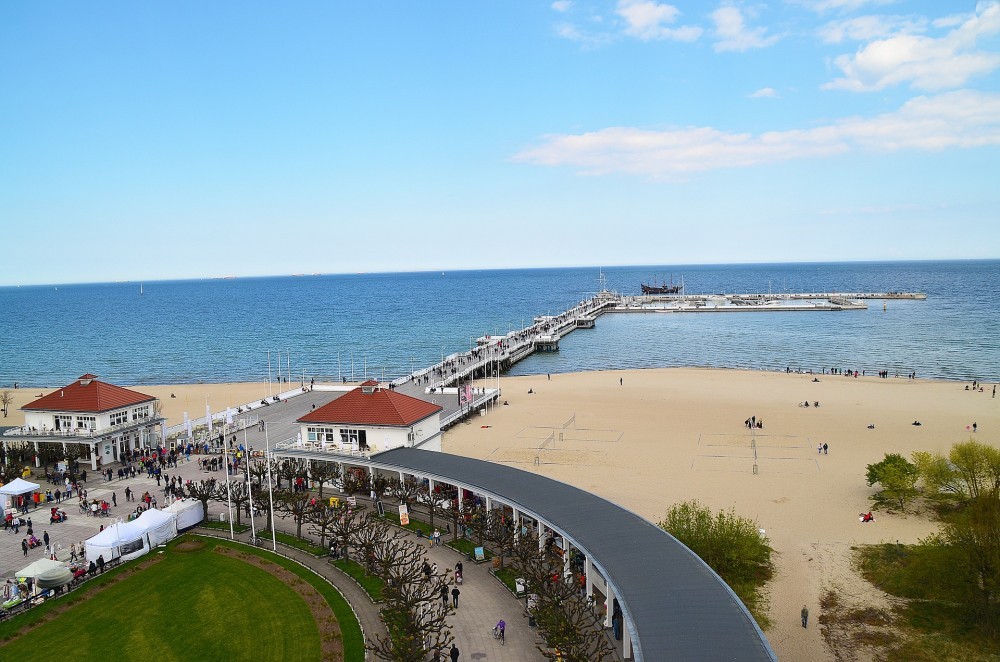 10 Top Things To Do in Sopot
If you're looking to go somewhere different on your next vacation, then why not try a new destination in Poland. Of course, there's more to Poland than you may think. Sopot is an interesting vacation destination that is sure to leave you with loads of travel memories. Each accommodation option in Sopot is strategically located close to the city's happening spots such as Sopot Pier and the beaches. And yes, the pier is a popular attraction in Sopot that's not to be missed.
Sopot, a charming seaside town on the Baltic Sea Coast, is a magnet for tourists all year round. The city, along with Gdansk and Gdynia, makes up the famous Tri-City. These cities are closely located, so whichever one you choose to visit, you can plan a day trip to the other two.
There are just enough things to see and do in Sopot to keep you busy all through your stay. Here is a rundown of the best 10 things to do in Sopot.
1. Sopot Pier (Molo)
This is, without a doubt, the most popular attraction in Sopot. Boasting the largest pier in Poland and one of the longest in Europe, a stroll along Sopot Pier offers stunning views of the Baltic Sea. Built in 1827, the pier made entirely of wood is more than 500 meters long. You'll find people wandering through the pier even during the cold winter months. With the range of bars, cafes and restaurants found here, you can never go hungry or thirsty. There's a view platform from which you can take in the wondrous sights of the sea. Another interesting spot here is the white sandy beaches ideal for swimming.
If you visit during the peak travel season, which runs from April to September, a walk along the pier will cost you around $2. Of course, there has been much debate about this fee, but it's believed that proceeds are channeled towards the pier's maintenance.
2. Sopot Lighthouse (Latarnia Morska)
Just within proximity to the pier is the beautiful Sopot Lighthouse. Built in 1904, the lighthouse is one of the city's landmarks. An interesting fact is that the building was originally built as part of a spa complex and not as a lighthouse.
The thing is Latarnia Morska no longer functions as a lighthouse, but it is open to visitors. Climb to the top of the building which is 25 meters high. When you get there, you'll be glad you did, as it offers stunning views of the city and its surroundings.
3. Sopot Beach
Unfortunately, many people see Poland as less of a beach destination, but the city is home to more than 500 m of the Baltic Sea coast. In essence, the city boasts an array of sandy beaches. On hot summer days, Sopot beaches get really crowded. Note that the Baltic Sea can get a bit chilly, so swimming is sometimes for the brave at heart.
Top activities to do on the beach include participating in beach sports, taking a refreshing dip in the waters, enjoying a cup of ice cream while strolling along its shores, or relaxing with a chilled bottle of beer. Looking for a more serene, quieter atmosphere? Take a stroll further down the coast, and you'll be miles away from the crowd.
Sopot beaches make a perfect spot to lounge in the sun. Want to participate in some water sports activities but not properly equipped? Not to worry, you'll find lots of beach rental companies offering the gear required to make your time worthwhile.
4. Monte Casino Street
Welcome to one of the most famous pedestrian streets in Poland. Ulica Bohaterow Monte Casino got its name from the fallen heroes in the battle between Poland and German in the Second World War. Hardly will you hear locals call the street's full name as its fondly called Monciak.
From here, you can easily reach anywhere in Sopot, thanks in part to its central location. Its popularity stems from the fact that it houses some of the most popular attractions in Sopot. Also, you'll find more cafes, bars, stores, and restaurants here than any other main street in Poland. This is the spot where all the actions in Sopot begin. If you visit during summer, the street is usually packed and crowded. And at night, the street comes alive with parties and music which sometimes last till the early hours of the next day.
5. Crooked House
Crooked House is perhaps the city's most popular building. Locally known as Krzywy Domek, you can't miss this stunning building as you stroll along Monte Casino Street. Built in 2004, Crooked House is designed by polish architects Szotyncsy & Zaleski. More so, it is considered the most photographed building in Sopot. Inside, you'll find lots of stores, bars, restaurants, cafes, and a radio station.
For revelers and party goers, there's a Dreamnightclub on the top floor where the party never stops till dawn. The main attraction is its unusual design with remarkably curved walls and windows. Don't miss the wall of fame on the ground floor, which has signatures of popular celebrities in Poland.
6. Sopot Museum
Sopot museum is an interesting place to visit by culture and history enthusiasts. Sited in an early 20th-century mansion originally owned by the Claaszen family, the museum boasts interesting artifacts, and pictures documenting the city's rich history as well as that of the Claaszen family.
On the lower floor, you'll get an insight as to how the building looked at the time it was occupied by the Classzen family. Here you'll find several family possessions including paintings, furniture, and kid's toys. The second floor is home to temporary art exhibition which tells you more about the rich history of the city.
The museum is just a few miles away from the beach, and its leafy gardens make for a perfect spot to relax and unwind on a sunny day.
Wikimedia Commons / Jan Burnewicz
7. Forest Opera (Opera Lesna)
Sopot first rose to fame happened when it hosted the Soviet Bloc's version of the Eurovision Song Contest. Take a step back in time to explore this iconic event venue – Opera Lesna. It is one of the most outstanding musical venues in Europe.
What makes this attraction more fascinating is its impressive scenery. The Forest Opera is located right in the heart of a thick forest, hence its name. The event center has been graced by some of the biggest shots in the music industry, including Whitney Houston, James Brown, Bryan Adams, Lionel Richie, Annie Lennox, Sir Elton John, Sting, and Backstreet Boys.
For sure, the outdoor venue plays host to many events year-round, but the biggest is the International Sopot Festival, which happens annually in August. The iconic event venue is open to visitors during the peak season – April to October. Inside, you can take a tour of the changing room, the backstage and, if possible, stand on the prestigious stage.
Taiyo Europe Wikimedia Commons
8. Church of St. George
Just as with every other Polish town, Sopot has its own fair share of religious sites. The most popular being the Garrison Church of St. George. Located at the top of Monte Cassino, the church was designed by Louis von Tiedemann of Potsdam.
The beautifully decorated interior features stunning stone, colorful modern stained-glass, and a statue of Virgin Mary. Right within square lies a Neo-Gothic chapel which is home to the statue of St. Adalbert. Church of St. George is a destination that should be on your bucket list of places to see.
Аимаина хикари Wikimedia Commons
9. Sopot Art Gallery
Sopot is home to lots of great artists and budding creatives. You might find street vendors selling beautiful paintings, but that's nothing compared to the authentic and colorful artworks found in Sopot Art Gallery. The gallery presents around 25 exhibitions of artworks annually. The State Art Gallery works in conjunction with other museums and galleries not only in Poland but also the world at large to bring you impressive works of arts by local and foreign artists alike.
The gallery is ranked as one of the best contemporary art galleries that call Poland home by Polityka magazine. Here you'll find works and paintings by renowned artists such as Jacek Malczewski, Alina Szapocznikow, Robert Kusmirowski, Katarzyna Kozyra, Artur Zmijewski, and Ivan Aivazovsky. The State Art Gallery holds art exhibitions and shows that cater to both young and old.
NeonFor Wikimedia Commons
10. Aqua Park Sopot
Aqua Park Sopot is a popular family attraction where you can spend the day. It boasts several indoor and outdoor pools, games, waterslides, and other incredible facilities to keep everyone entertained.
Apart from the activities here, the park offers visitors an option to take care of their body at the Sauna and Spa World. On the lower floor is the bowling alley, which has 6 tracks, a snooker area, and a bar with snacks and drinks. Enjoy fine dining at the onsite restaurant.
Aquapark Sopot is the perfect place to enjoy family fun.
With cafes, bars, and restaurants scattered all over the city, this is a perfect destination for revelers looking to escape the hustle and bustle of city life. The most popular time to visit Sopot is during the summer months. No doubt, there are lots of interesting destinations to visit around the world. But one thing is sure Sopot has something more to offer compared to other European destinations. 
See also my post about 10 best beach towns in Poland.
The Best Travel Resources
Booking.com –  very good global booking engine, they have a very comprehensive database of locations and hotels to choose from.
HotelsCombined – hotel booking site focused on finding you the best variety of rates.  Save you time by looking at hundreds of providers.
Get Your Guide – great platform to book endless
activities, tours and tickets for attractions across the world.
Discovercars.com – price comparison and bookings website for cars, at very affordable prices, one of the best on the market.
World Nomads – If you're going for a trip abroad, it's good to have travel insurance in case something goes wrong.
Omio – great platform for booking trains, buses and flights in Europe.
NordVPN – With NordVPN you can securely access apps, websites, and entertainment platforms from anywhere in the world.