Travel Guide To Kashubia – Poland's Little Switzerland
Kashubian, Switzerland, is famous for its unique character and has an amazing land rich in history and traditions. It is also considered to be one of the most beautiful regions in Poland. From the sea to the lakes and countryside, from the hills to the charming villages, there are undoubtedly many reasons why to visit Kashubia. Come explore Kashubians' best shores, delicious food, wonderful nature, lively festivities, and intriguing culture.
Why is it Worth Visiting Kashubia?
Kashubian Switzerland has about 700 lakes, rivers, wild beaches, dense forests, picturesque villages, and a number of attractions for tourists of all ages. The region can be visited in various ways: natural, historical, or cultural. Read on and discover wonderful places in Kashubia.
Charming Towns of Kashubia
Kartuzy – The heart of the Kashubia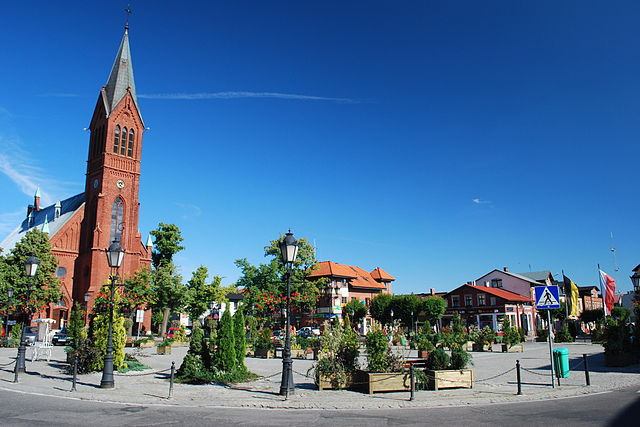 Polimerek Wikimedia Commons
Perched within the lakes, Kartuzy is a charming town, with a lot of greenery, lovely streets, and impressive architecture. The city owes its name to the Carthusian Monks, who were invited to set up a monastery here in the 14th century. The monastery built by monks is the most famous monument in Kartuzy – you'll see that the roof of this 14th-century Gothic church is shaped like a coffin.
The town also has an excellent Kashubian Museum, which has exhibits related to the Kashubia and the ethnic group that inhabits them. You can learn a lot about Kashubian's culture, the everyday life of Kashubians, their customs, see tools, and toys. Kartzuzy is a very little town, so you can surely explore it in one day. The best way to move in Kartuzy is walking or cycling.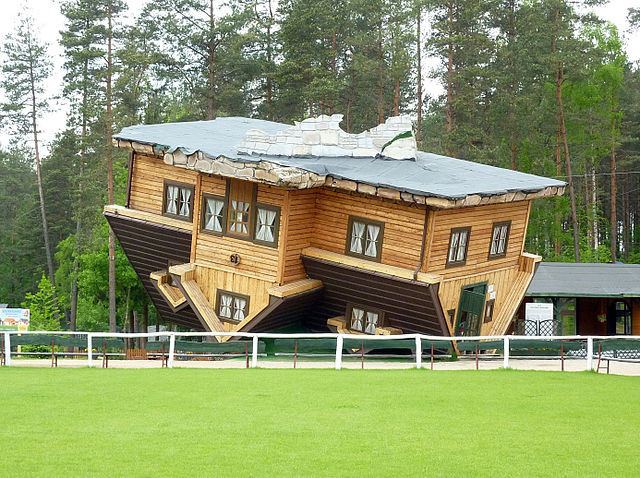 Przemysław Jahr / Wikimedia Commons
This charming village is located in the heart of the Kashubian Landscape Park. Szymbark is perfect for walking, outdoor activity breaks, or fresh air getaways. The town has a famous upside-down-house, which stands on the roof anyway. If you have vertigo, you shouldn't even try to get in there.
Usually, people exiting the house with all kinds of dizziness and headaches, yet they laugh at the same time. Upside-Down-House is a symbol of the times of the Polish People's Republic, when, according to many people, practically everything was turned upside down.
You should also pop-in to the museum surrounding this "house"; you can learn a lot about the history of Kashubian people. If you like classical music, you should check out the largest piano in the world. The piano was named "Stolem Klawer" and bears the emblem of the Pomeranian Griffin.
Supported on six legs with images of outstanding Polish musicians such as Fryderyk Chopin was listed in the Guinness Book of Records. How about more Guinness records? The world's longest board can also be found here.
Furthermore, there is a bunker of the Secret Military Organization "Gryf Pomorski." During the tour, you will "experience" bombing, lamps go out, the roar of shots, and the whistle of bombs and bullets. Walking through the narrow corridors, you will feel as if you have actually traveled back to the times of World War II.
Chmielno – The Kashubian Saint-Tropez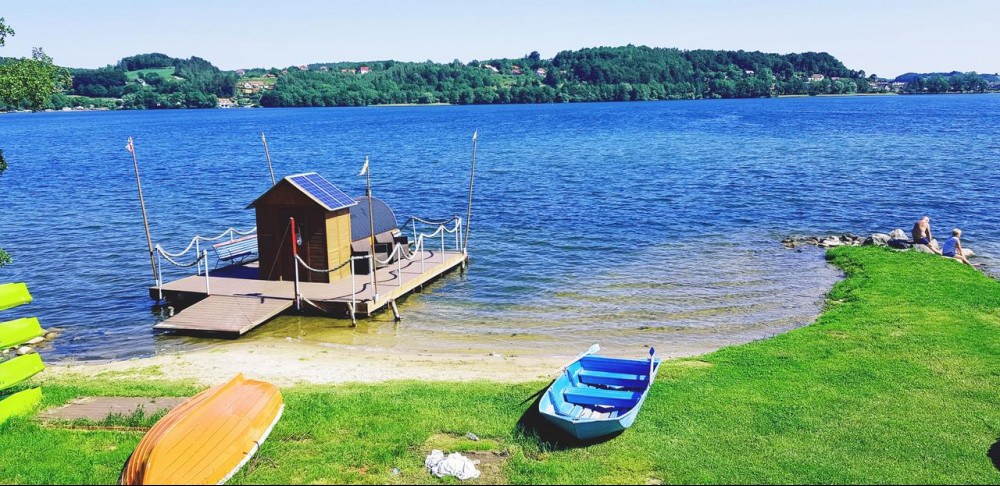 Chmielno is considered by many visitors to be the most beautiful town in Kashubia. You have to come here to understand why Chmielno is called the Kashubian "Saint-Tropez." Perched between lakes Biale and Klodno, this small but vibrant town is a popular base for visitors to the Kashubian Switzerland, thanks to its well-developed accommodation base, numerous recreational and sports activities, and a plethora of places to eat.
Here you can find large resorts, cozy guesthouses, and taste delicious Kashubian cuisine. During your stay, you should also pop in to the unique Museum of Kashubian Ceramics, where you find ceramic dishes with characteristic Kashubian patterns. You can even check your skills here and make a pot.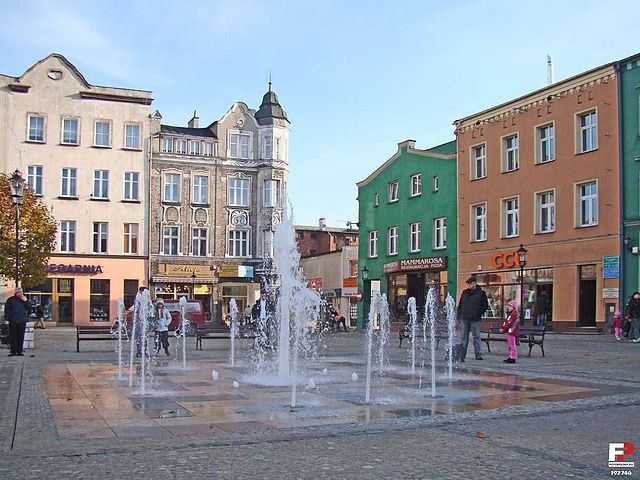 KazimierzP Wikimedia Commons
While the seven largest Kashubian towns competed for the title of Kashubian capital, Kościerzyna undoubtedly gained the name of the heart of the region. What makes the market square in Koscierzyna a favorite spot for tourists?
If you love to spend a lazy afternoon at the market square in a quaint town, sipping aromatic coffee, or having a local beer, Koscierzyna market square is the right place to be. You just need to reserve the right amount of time to relax in a cheerful atmosphere.
If you fancy something different, it would be best to head to the local Railway Museum where you will see historic trains from the turn of the 19th and 20th centuries. This unique place is visited by over 30,000 people a year. Great places for families with children and "Thomas and Friends" lovers.
Why tourists flock to this charming town? People love its pleasant recreational surroundings, beautiful forests, and scenic lakes – great for bathing, fishing, and sailing. Water sports enthusiasts will find many opportunities to pursue their hobbies,especially around the neighboring lakes. The town is ideal for exploring the nearby nature, where you will find cycle andwalking trails.
Accomodation
There are loads of places to stay to pick from, so whether you fancy five-star luxury or cozy and apartment, there are lots of selections available to you no matter what your style or budget.
Budget: Villa Regina
Mid-range: Kaszubskie Zacisze
Luxury: Hotel Kiston
Droga Kaszubska
Fancy taking a spin along one of Poland's most famous road? The Kashubian Road is a beautiful, scenic 20-kilometer route in Kashubia that takes about 1 hour at a leisurely pace. It can be accessed from the small town of Chmielno. The best time to visit the Kashubian Landscape Park and enjoy amazing views is from May to September.
Wiezyca
At 328 meters above sea level, Kashubian "Mount Olympus" is the highest point in the Central European Lowlands. The climb up the hill is actually easily done. This beautiful hike of around 1 kilometer begins in the parking by the local road to Szymbark village. It leads through a beech forest to the top where you can admire the beautiful views of Kashubia from the observation tower. Right next to Wierzyca, there is also the most popular canoeing route in Poland – Kółko Raduńskie – running through 14 lakes.
Kaszubski Park Krajobrazowy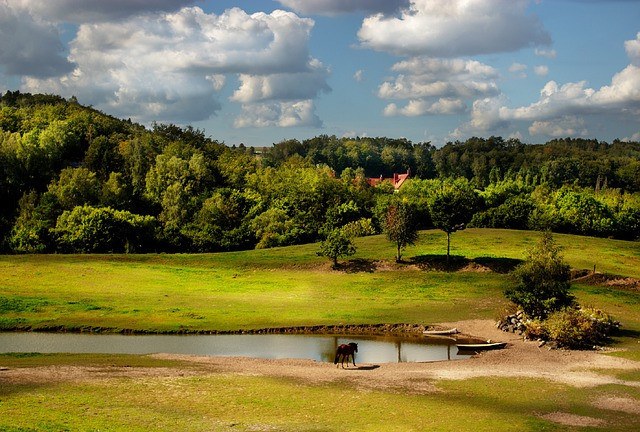 The perfect way to explore the captivating nature of the Kashubian Switzerland is undoubtedly visiting its national park that preserves the natural surroundings and wildlife at its best. Cycling is unquestionably an attractive way to explore the park, but there are also other ways to experience the breathtaking scenery, such as a trip to the Wiezyca, which provides stunning panoramic views across the region.
A variety of walks, cycle routes are available to explore the region's beautiful woodlands. Apart from the beautiful nature and wildlife, the national park offers visitors a wide range of other attractions, including the sanctuary in Sianow, an ancient burial mound in Uniradze, and a ghost castle in Lapalice.
You can admire the beauty of the landscape from numerous hiking trails, about 20 viewpoints, and even a car tour.
Kashubian Cuisine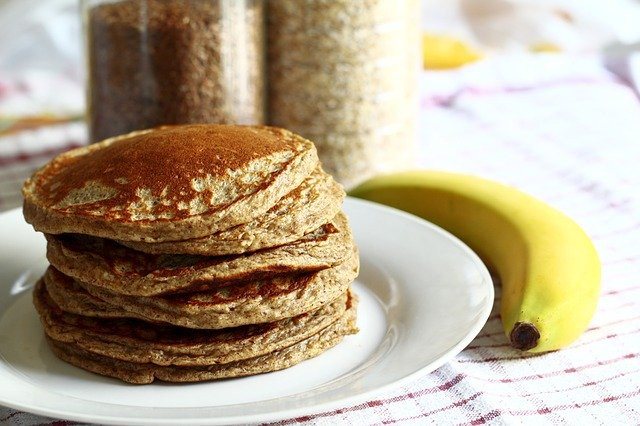 A trip to the Kashubian Switzerland isn't complete without tasting excellent Kashubian dishes, many of which you will have a chance to try only in this region.
You should try delicious fish soup here, one of the most typical dishes of a Kashubia. Another famous and simple Kashubian dish is tubers with milk and "szpyrki." When it comes to desserts, the specialties are thin and crispy potato pancakes served with sour cream.
The Kashubians assume they are borderland people, which means various cultures influence their traditions and cuisine. It should also be mentioned that the Kashubia is located in a wide area; hence, the dishes are very diversified.
Kashubian People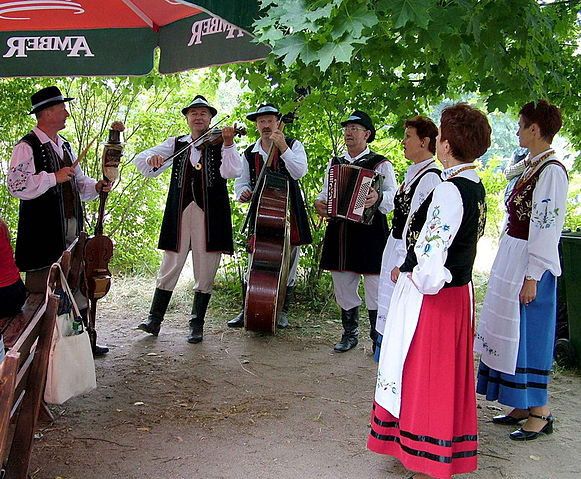 Stako Wikimedia Commons
Everyone who comes to Kashubia falls in love with local customs and folklore. The locals are having their own language plus regional identity, which makes this region unique in Poland. You can meet a still-living tradition, try a snuff, or listen to myths about Kashubian giants.
Kashubians are kind people; they love nature, singing, and dancing. If you want to feel this welcoming atmosphere yet behold the local culture, pack your bag travel, get on the plane, and off you go.
The Best Travel Resources
Booking.com – very good global booking engine, they have a very comprehensive database of locations and hotels to choose from.
HotelsCombined – hotel booking site focused on finding you the best variety of rates. Save you time by looking at hundreds of providers.
Get Your Guide – great platform to book endless
activities, tours and tickets for attractions across the world.
Discovercars.com – price comparison and bookings website for cars, at very affordable prices, one of the best on the market.
Omio – great platform for booking trains, buses and flights in Europe.