Biskupin – The Iron Age Fortified Settlement
Tired of the touristy destinations in Poland? Looking for an off the beaten path attraction in Poland with plenty to offer? You're not alone. A trip to Biskupin, the Iron Age Fortified Settlement, rarely makes the lists of most visited destinations in Poland, but it is well worth your time.
Renowned for being the most famous archeological site in Poland, Biskupin is one of the finest sites in Europe, held in high esteem by archeologists, history buffs, and culture lovers. Founded in 1933, the site has undergone a series of renovations and now serves as an open-air museum, with plenty on display.
Unlike the castles, squares, and other religious buildings scattered across Poland's touristy spots, Biskupin offers visitors a chance to learn more about Polish history from a unique point of view.
History of Biskupin
Mirlont56675 Wikimedia Commons
This archeological site was built more than 2700 years ago, at the same time when the Roman Empire was birthed. In 1933, a few students stumbled upon wooden poles stuck close to the lake. This ingenious discovery was brought to the notice of Professor Kostrzewski, an archeologist from Poznan.
The professor, gladdened by the news, rounded up a group of archeologists for further exploration of the site. The first publication of the excavation was in 1936. Before the start of the Second World War in 1939, which stalled the excavation process, they've gone 2500 square meters deep. The settlement became a famous site, attracting locals, military officials, and other top dignitaries who visit to admire the impressive discovery. Biskupin has been well detailed in novels and artworks.
This significant landmark earned the name Polish Hercuaneum or Polish Pompeii. This fortress located about 70 km away from the German border is a perfect indication that the prehistoric Poles knew just how best to handle their aggressive neighbor, Germany, infamous for their invasions in the Iron Age.
During the German invasion in the Second World War, the area was captured as it became part of the Warthegau, a popular German region. In 1940, excavation resumed under the supervision of a classical archaeologist, Hauptsturmführer Hans Schleiff. The second phase of the excavation continued till 1942. The site was ironically preserved by the flood. The third phase of excavation resumed after the end of WWII and continued till 1974.
Biskupin Museum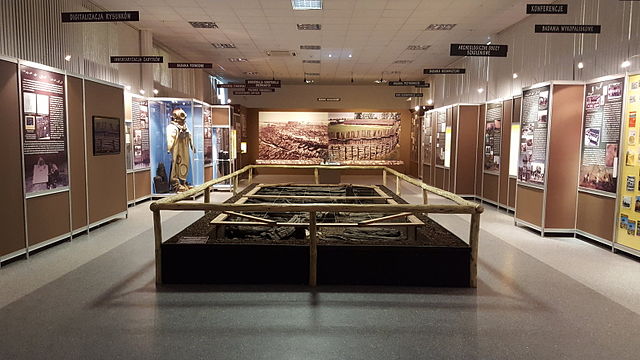 Przemek Pietrak Wikimedia Commons
Located on Lake Biskupin, Biskupin features a 450m defensive wall otherwise known as a rampart. The museum grounds are a perfect place for a great stroll. The on-site trees make a perfect shade for those who would like to relax or take a stroll around. Inside the thatched roof buildings are food stands and a gift shop where you can buy a few souvenirs. Depending on the visit time, you're more likely to find other tourists and young Polish families.
The major highlight of the site overlooks the lake. Just a few steps away from the main entrance lies the ruins of the original Iron Age Settlement. Admire the rampart that surrounds the towers. Interestingly, the ramparts are walkable. Take the link bridge to the settlement.
Inside, you'll find various kinds of tools, bones, ornaments, and natural materials. The reconstruction wasn't completely done to allow visitors to see a part of the ruins of the original settlement. The gallery features an air conditioning system to regulate temperature.
The different exhibitions displayed here tell the rich history of the settlement, from the Lisatians settlement era to the Middle Ages. On the grounds of the settlement are other buildings worth exploring. These wooden houses will most likely leave an impression on you.
Farming
Locals in Poland visit Biskupin to learn more about their rich pre-Christian history. Herein lies stations that keep kids entertained. These stations include craft-making stations, bird boxes, and a paddock of livestock.
Dating back 6000 years, the area houses a settlement of the first farmers. Though partly reconstructed to portray a modern look, the farm shows visitors how farmers plow their land in prehistoric eras. You'll find endangered species like koniks and horses, which are mostly found in forest Tarpans. Check out Wrzosowka sheep and goats in their habitat.
At the farm, you can also have a look at how to cultivate ancient grain and cereal species, including miller, lentils, camelina, wheat, and Celtic broad beans. To see this, you should find your way to the demonstration area just a few walking distances from the animal pens.
Biskupin Archeological Festival

Every year, Biskupin holds a festival that draws many people from across Europe. The Biskupin Archeological Festival takes place usually during the third week of September, and it is known to be one of the largest archeological festivals in Europe. This is a perfect time of the year to see colorful displays of crafts, handiworks, and various aspects of spiritual life dating back several centuries ago.
Other interesting activities to watch out for include dance performances, musical performances, knights tournaments, mining coins, Slavonic-Viking ship replica sailing, underwater archeology, and bow shooting. There are many activities to keep you busy. You'll have a swell time here if you choose to stay back during the 9 days festive period.
Take part in exhibitions where you can learn how to create your own arrowheads, and read dates from tree trunks. Learn how to date excavations from highly experienced archeologists. These experts will also show you to remodel an ancient site and classify bones, among other things.
It is worth to mention that some of these activities and competitions at the festival are designed for children as well. Kids can also take part in the fun activities lined out for them. Some of these competitions, including learning the ancient dances, molding a Stone Age Venus using clay, and many others.
Getting There & Accommodation
Biskupin is located around 100 km from Poznan and 55 km from Bydgoszcz. The best way to get to this off-the-beaten-path destination is to rent a car or take a bus. I would stick to the car as bus or train services are very limited, train even not reaching the final point of our journey.
Ideally, book your stay in one of the mentioned towns and then take a day trip to Biskupin. Both towns have their own unique charm, many hidden gems, and loads of tourist attractions. Check your budget and non-budget accommodation options in both cities below.
Bydgoszcz: budget & non-budget
Poznan: budget & non-budget
No doubt, this settlement is definitely a great place to visit. So if you are on a family vacation to Poland, this is a kid-friendly location worth visiting. A great off the beaten path vacation for families and other tourists.