Things To Do in Miedzyzdroje, Poland
If Poland is on your bucket list, then visiting Miedzyzdroje is an absolute must! Located on the Baltic coast by far is the best place to explore the island, Wolin. You'll be mesmerized by its scenic beauty. Miedzyzdroje is known as the land of long sandy beaches and the best hiking trails in the area.
While you won't find any of Poland's best tourist attractions here, Miedzyzdroje is worth a stop for its laid-back holiday atmosphere, beaches, and its avenue of stars. Find out our top spots that you need to see in Miedzyzdroje while you're visiting the Baltic coast.
Pier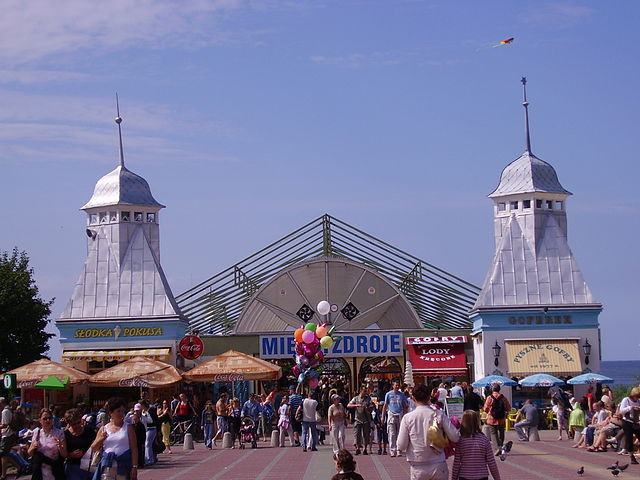 Matio Wikimedia Commons
A top sight to see in Miedzyzdroje is Pier, where you'll find stalls with food drink and a coffee. This is the ideal spot for you to grab a light lunch while you enjoy sweeping views.
Here you can relax and recharge your batteries for the rest of the day. It is also an excellent place for couples in love, where they can place a love lock and then return after a few years and find the lock still hanging. The current pier becomes a marina for cruise ships. You should consider a boat trip to Ahlbeck, Heringsdorf, or Bansin.
Read more: 48 Hours in Gdansk
Oceanaruim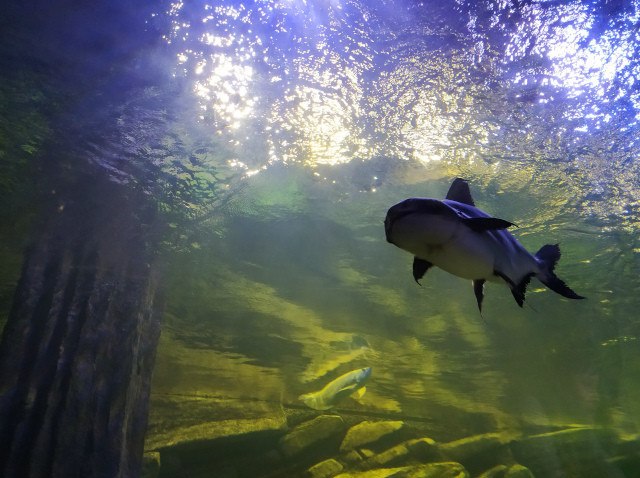 Explore the marvelous undersea world of the Miedzyzdroje Oceanarium, where you can admire the fish from the farthest parts of the world. You will have the opportunity to discover the sea secrets, with the number of species of fish, predatory sharks and moray eels, beautifully- colored fish and many more.
One of the biggest draws of the building is a 16-meter glass half tunnel. It will take you about 40 minutes to walk around the Oceanarium. Great place for the youngest visitors with a multitude of attractions for them.
Walk of Fame's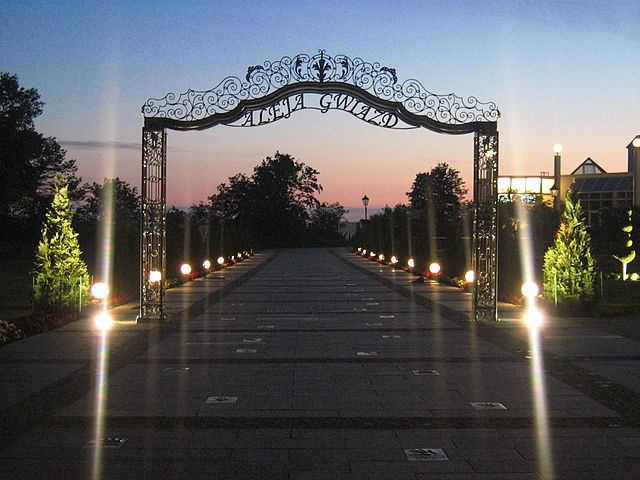 Radosław Drożdżewski (Zwiadowca21) Wikimedia Commons
A copy of the world-famous Hollywood Walk of Fame and on a much smaller scale. If you are lucky, you can meet some characters whose fingerprints are on the sidewalk. Even if you don't know polish artists walkthrough through this promenade is lovely, a bit crowded, but that should not detract from the attraction.
Kawcza Gora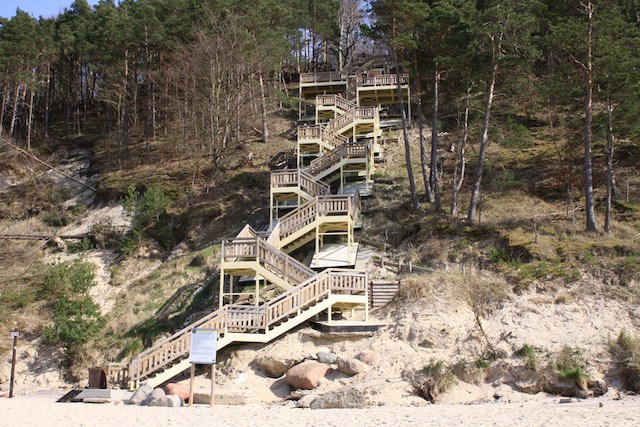 If you are a fan of active leisure, the hike to the peak Kawcza Góra will be a real adventure to you. You will have to climb wooden stairs from the beach to the summit, but you will be rewarded with stunning views of the pomeranian Bay.
The viewpoint hangs 60 m over the cliff in Wolinski National Park yet is a very romantic place for long walks surrounded by nature. Great place to escape the noise and crowds of the seafront promenade and watch the sunset.
Read more: Hel Peninsula and Moving Sand Dunes
Wolinski National Park
Near Kawcza Gora, you will find the entrance gate to the Wolinski National Park. This Park is a paradise not only for animal lovers but also for those looking for relaxation in the bosom of nature. To experience the Park in full, I'd say you should make a day trip out of it; though, it's lovely for shorter trips.
This place delights with its incredible natural values ​​- the area of ​​well-preserved beech forests and the most beautiful part of the Polish cliff coast, which will make your family stay at the seaside more enjoyable.
Don't miss the wonders surrounding you, such as the lighthouse, dunes, turquoise lake, and bison farm, which your little ones find enjoyable. Don't forget to bring water and drink with you as there is a lack of places to buy them.
Village of Vikings & Slavs in Wolin
If you are a fan of the most fearsome warriors of all time, you should head to this village. The village of Slavs and Vikings will take you back in time when the Vikings and Slavs ruled on Wolin Island. In the open-air museum located on the Dziwna River, there are several huts from the early Middle Ages, gates with fortifications, and a harbor-wharf.
You can admire huts of Vikings with exact copies of furniture and tools from 1000 years ago. Energetic ones can take part in blacksmithing, pottery workshop, or learn how to shoot a bow. The annual Slavs and Vikings Festival is a real treat, hundreds of warriors from all over Europe flock to this event.
Upside-down House
Curious will get the chance to take 'zero gravity selfies' in the upside-down house of Miedzyzdroje. The house on the roof in Międzyzdroje, where everything turns upside down, was built in 2013 right next to the promenade.
You can explore the building's rooms, kitchen, bathroom, and attic. The difference is that instead of walking on the floor, you will walk on the ceiling, where all furniture is placed. Make sure to check out the truly impressive fish aquarium.
Miedzyzdroje Beach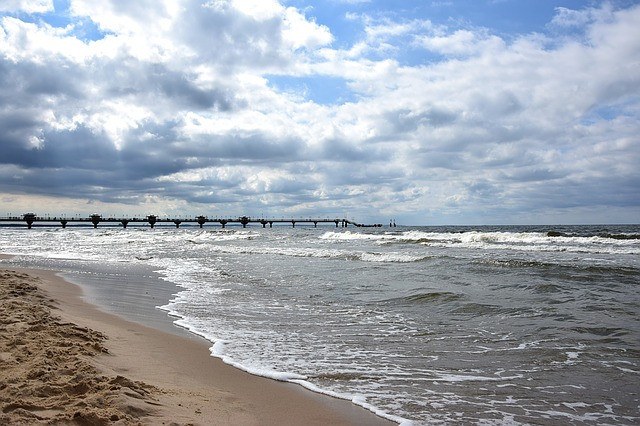 Undoubtedly, the most prominent tourist attraction of Międzyzdroje is the beautiful beach, considered by many travelers to be one of the best on the Baltic Sea. Quickly you will find that beach is spotless and lovely.
Well, but you can't just sit back and admire the stunning views of the baltic sea and cliffs. You should take part in beach soccer competitions, take a sip of local beer in one of the cozy restaurants or rent windsurfing board and conquer the sea waves.
Accommodation
Miedzyzdroje is the most popular choice for travelers who are visiting this stretch of coast. The advantage of using Miedzyzdroje as your base during your holiday is its clean beach and its stunning views and pleasant atmosphere. This vibrant town has a wide range of accommodations for all budgets, including high-standard hotels, cozy apartments, and holiday homes.
Budget: Pokoje Goscinne Gasowscy
Mid-range: Apartamenty Aquamarina
Luxury: Vienna House
Bottom Line
Międzyzdroje is a popular tourist destination in Pomerania. If you haven't been there yet, I encourage you to visit this charming town. Fans of the sea and the waves' sound will love to visit beautiful, wide and sandy beaches in the area. Whether you choose the cozy rest in the splendid buildings, or go out to the exquisite beaches and indulge in swimming, extraordinary moments will be remembered for a long time.
All visitors will definitely get their money's worth, regardless of whether you are a family, a young couple, students, or seniors.
The Best Travel Resources
Booking.com – very good global booking engine, they have a very comprehensive database of locations and hotels to choose from.
HotelsCombined – hotel booking site focused on finding you the best variety of rates. Save you time by looking at hundreds of providers.
Get Your Guide – great platform to book endless
activities, tours and tickets for attractions across the world.
Discovercars.com – price comparison and bookings website for cars, at very affordable prices, one of the best on the market.
Omio – great platform for booking trains, buses and flights in Europe.