The Suwalszczyzna (Suwalki Region) – Wonders of Eastern Poland
The fairy-tale and unspoiled Suwalszczyzna is best known for its extraordinary landscape of rolling hills, vast forests, and old villages. A journey to the Suwalki is nothing short of magical. And anyone who visits this lovely corner of natural beauty in northern Poland always dreams of returning once again.
You don't have to wait until spring to see the value of this land, even in winter you won't be bored here. It is also a place of dwarfs, ancient towns, and many more attractions that must be visited!
Where is Suwalki Region?
Suwałki Region is a small area around the city of Suwałki in north-eastern Poland near the border with Lithuania. Sadly, this historic land is divided today by the Polish-Lithuanian border. On the Polish side, it encompasses only three counties Suwałki, Augustów, and Sejny – with a total area of ​​approx. 3,886 km².
This beautiful region remains a center of the Lithuanian minority in Poland. The Suwałki Region can be explored by car, canoe, bicycle, or on foot – any form is wise to discover the enormous wealth and beauty of this region.
Read more: Kashubia Poland's Little Switzerland
Polish Cold Pole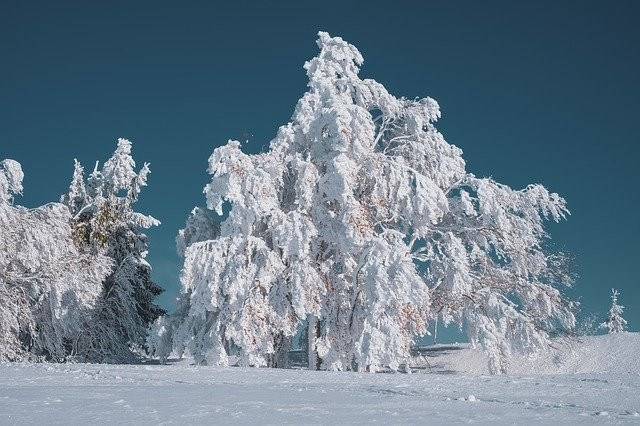 Suwałki is known to all Poles as the traditional "cold pole" due to the extremely low winter temperatures. During the worst waves of frost, the temperature easily exceeded minus 30 degrees there.
If you decide to visit Suwalki in winter, make sure to take warm clothes with you, including winter safety shoes, a scarf, thick socks, and a jacket. It's so cold here that eyelashes are freezing. But don't worry if you need a little warm-up just head to one of the local restaurants, sit by the fireplace and take a sip of hot mead, or finish your glass of Bimber.
Some travelers prefer visiting in the autumn, which is probably the best time of the year to travel through the Suwałki Region. The days are still long and warm, and the blaze of colors is breathtaking.
Culture
But the beauty of this region lies not only in nature. An outstanding history, different cultures that influence each other, and a long tradition form an extraordinary combination. For many years, apart from Poles, the Suwałki region was inhabited by Belarusians, Lithuanians, Tatars, Germans, Jews, Ukrainians, Russians, and Old Believers.
This mosaic of nations currently lacks Jews who became victims of the Holocaust; however, the local coexisting society still inspires and fascinates. As elsewhere in our country, it is safe to say that this is where east meets west.
Old Belivers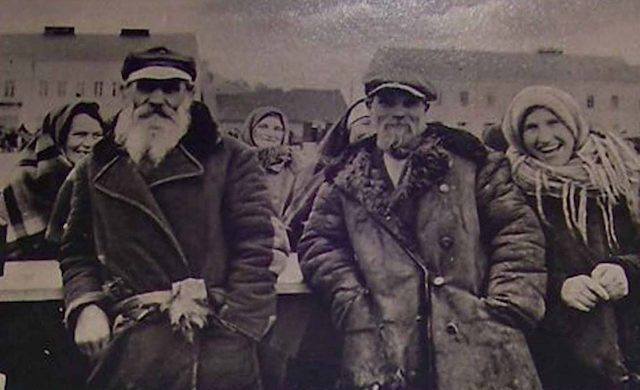 Photo credit: www.historykon.net
Speaking about culture, I believe it is worth mentioning a little more about the Old Believers. Who are they? Where are they live? Where are they come from?
Six kilometers south of Augustow, the village of Gabowe Grady is populated by a sizeable number of Old Believers. The Old Believers came to the Suwałki region in the eighties of the XVIII century. The reason for their migration from Russia was the split in Orthodoxy that took place in 1654.
Until recently, they even obeyed the absolute ban on smoking – especially in the vicinity of holy places, and also drinking vodka. An interesting custom among the male part of the Old Believers is to wear long beards. Such a beard – as they believe – is a condition for entering heaven.
The Old Believers from this village are indeed a national minority, as they kept the traditions of old Russia, the faith of their ancestors, and emphasize their Russian origin. If you choose to visit Gabowe Grady, be sure to pop into molenna, a temple kind.
Cuisine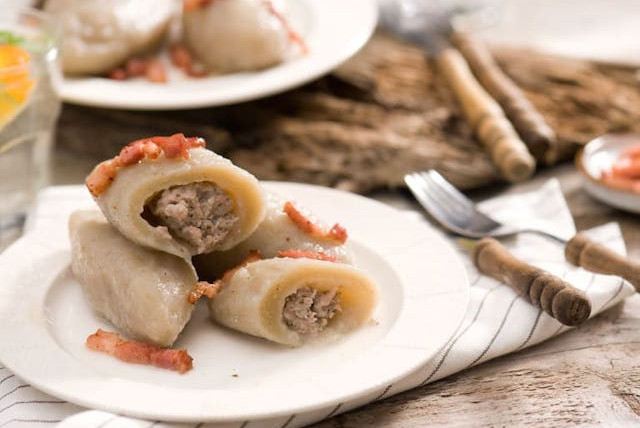 I would have put it on number one, but then you'd probably think I'm a hungry man with nothing but an ass at the table. When you arrived in Suwalki, a tasting of regional dishes await for you in the local restaurants. Remember, you don't live by sightseeing alone, in addition to pristine nature and a huge number of tourist attractions, one should not forget about the delicious regional cuisine for which the Suwałki region is famous.
The local cuisine is simple, home-style cooking and based on traditional ingredients that cannot be missed in a local home, such as flour, potatoes, milk, and eggs. One of the most famous and tasty dishes in the region is kartacze, called cepelinami (in Lithuania). Kartacze are nothing more than large oval balls made of potato mass (a combination of grated raw and boiled potatoes), usually stuffed with minced meat.
It happens that instead of meat, they are filled with mushrooms, sauerkraut, or cheese. To enhance the taste, they are often served with bacon cracklings and onion glazed in butter. Make sure you have left enough room in your tummy when they put on your table local delicacy called a "Sekacz."
Another local hit is the potato cake. The dish is made of grated raw potatoes mixed with cracklings of freshly melted bacon, spicy seasoned and baked in an oven until golden brown. Babka is a traditional dish of Suwałki, Podlasie, and Masurian regions and willingly prepared in Lithuania and Belarus.
You will undoubtedly meet all the traditional dishes listed above in most restaurants in the Suwałki Region. Our regional cuisine is sure to pamper even the most sophisticated palates.
Suwalki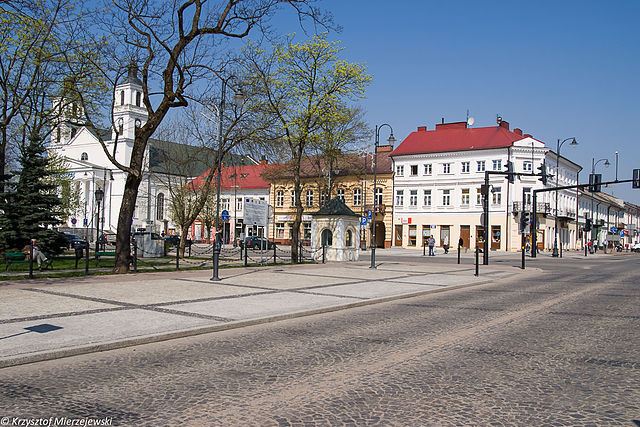 Fotoeksplorer Wikimedia Commons
If you have chosen the Suwałki Region as your holiday destination, be sure to visit the region's capital – you will not regret it! This charming town is often overlooked unfairly. At first glance, it might look like another slow-paced provincial town. Nevertheless, it has many fantastic attractions and is an excellent base for visiting other peculiar corners of the region.
Although Suwałki was for a long time considered an inaccessible place at the end of the world, today, it is an example of a thriving center. The main attraction of the city is Kosciuszki Street, where the historic layout has been preserved. You will find a market square with a vast park surrounded by tenement houses in the heart of the town.
The local authorities prepared several sightseeing paths for tourists. While walking through the classical one, you will see many architectural gems such as town hall, old mail, house of the Czeslaw Milosz, Church of Of the Sacred Heart of Jesus, and many more.
If you travel with children, the route of the dwarfs may be something that will attract them. The tourist's route takes its name from "Maria Konopnicka," author of the fairy-tale "about the dwarfs and the orphan Mary." The trail leads to the most significant cultural sights of the city.
From Suwałki, you can make trips to many exciting places in the area, set off on a kayaking trip along the Hancza river, rent a bike and go on tour through winding tracks of Wigierski national park or swim in the nearby scenic lakes. Well, it is a great place to stay if you want to save money without giving up on a central location where you can enjoy local food such as Kartacze in one of the local restaurants.
Augustow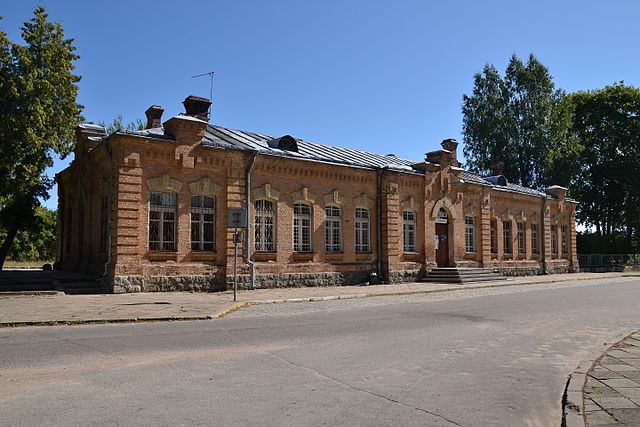 Lichen99 Wikimedia Commons
Augustow is a popular holiday resort and an ideal place for spending a summer weekend and enjoying water sports. Once you get there, you will be enchanted by its atmosphere and restaurants of various cuisine and the diverse leisure opportunities offered by the area.
A trip to Augustow isn't complete without trying local specialty- jagodzianka, a plump bun stuffed with fresh blueberries. This delicious product symbolizes the cultural heritage of the region -it is made by using traditional methods that have been used for at least 25 years. While in Augustów, it is worth learning about its history and the most exciting landmarks.
The town of Augustow is large, plus has many attractions scattered in numerous places, unfortunately, not well marked. You should not miss Zygmunt August's Square with a monument-column, characteristic tenement houses, the classicist building of the old post office built in 1829 according to the design of Henryk Marconi, the Basilica of the Sacred Heart of Jesus and the Augustów Canal Museum.
Augustów has a lot of interesting facts and secrets! You should also head to the pier and take a romantic stroll right by the water. And in the evening, couples in love will be delighted to watch the sunset with a glass of wine in hand.
Augustów, with its rich accommodation base, is an excellent starting point for exploring the surrounding attractions. Outside the city center, you can also spend the night by one of the four lakes.
The Augustow Canal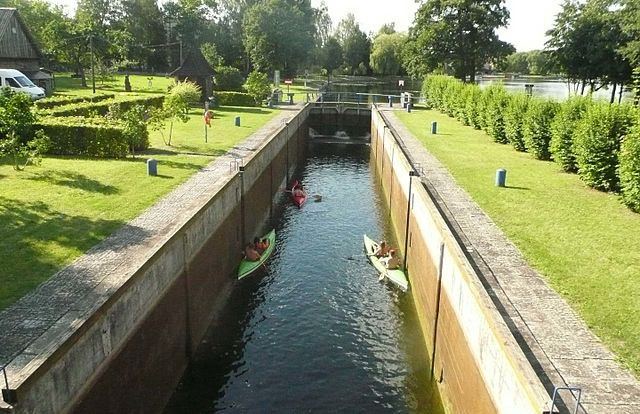 Dainava Wikimedia Commons
A must for anyone who visits Augustow, almost 200-year-old Augustowski Canal, is a unique Polish hydro-technical monument! The Augustów Canal was built during the conflict between Prussia and the Kingdom of Poland. After Prussia imposed high tariffs, Poles decided to make a canal to bypass Prussian ports.
Currently, it is a great tourist attraction of Augustów and the surrounding area. You can go on a boat trip or rent a kayak and cover the extreme distance of 101 km. It's an excellent opportunity to explore the local area and take advantage of direct contact with nature.
Wigry – Post-Camaldolese Monastery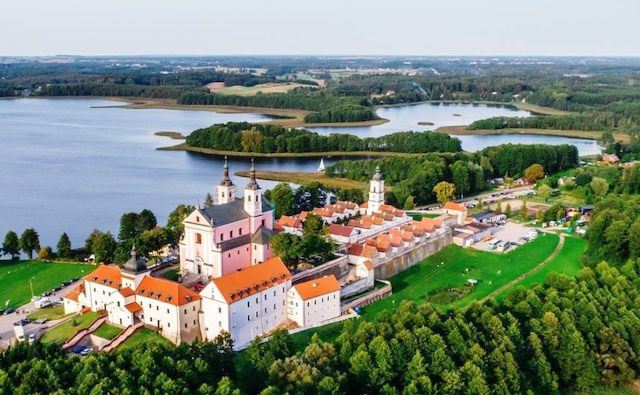 Photo credit: diecezja ełcka
Another equally big attraction is the monastery, which is the most valuable monument of the Suwałki Region. Initially, this area was the seat of the court of Polish kings and grand dukes of Lithuania. In 1667, Jan Kazimierz handed over the local lands (Lake Wigierskie with the surrounding forest) to the Camaldolese Order, who built the monastery.
The building houses seven altars, a crypt with the tomb of Bishop Karpowicz and the remains of the monks. The period of World War II brought enormous damage to this area, but the monastery was reconstructed over the years. In 1999, during one of his pilgrimages around Poland, Pope John Paul II stayed here.
Splendid avenues and square were designed to impress, so even now, you can still feel an atmosphere of old times, which in itself is a tourist attraction. You can find here two rows of houses where the monks used to live. Today, they serve as a holiday complex; you can rent them and experience this fantastic place, firsthand.
Leisure in the complex can be enriched with attractions by the water, thanks to Masurian Shipping marina located at the foot of the monastery hill. If you're in shape, you can climb up the tower and admire the scenery.
The monastery blends in perfectly with the landscape and is undoubtedly the most picturesque postcard of the area. It is an ideal place for those who seek relaxation.
Suwalski National Park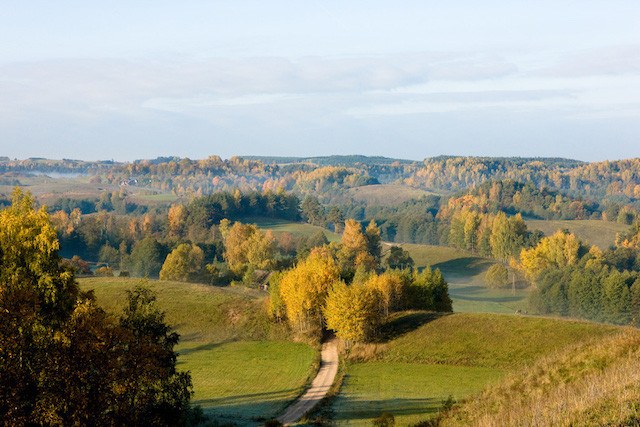 Photo credit: spk.org.pl
Suwałki National Park is an extraordinary land of clear lakes, rolling hills, and beautiful valleys. The park's symbol is the Cisowa Mountain (256 m above sea level), called "Suwałki Fujiyama."
Probably from here, you will have the best view of the fairy-tale landscapes of the park. This hilly, rich in forests, lakes, and rivers, the postglacial area includes the most bottomless reservoir in Poland – Lake Hańcza, which is 108.5 meters deep!
The clear water makes this place a Mecca for diving fans. In the Suwałki National Park, you will find the village of Wodziki Old Believers, where you can take a bath in a typical bathhouse. It is the oldest landscape park in Poland and perhaps the most charming. A National Park and its attractions are well worth a visit.
Wigierski National Park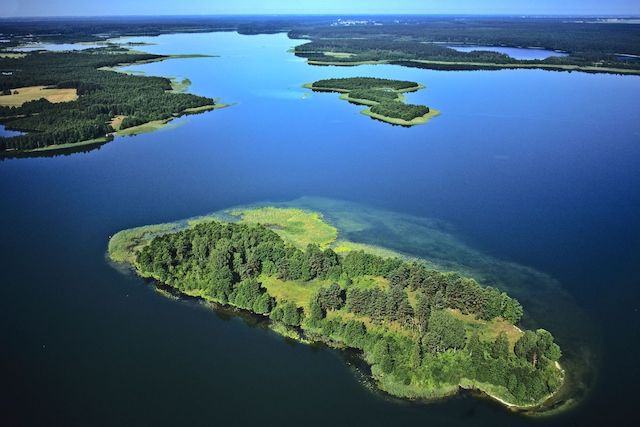 Photo credit: zpppn.pl
The lake and a large part of the surrounding area were designated a national park in 1989, an unspoilt area comprising a mixture of the lake, forest, and agricultural territory. This beautiful lake's shores are mostly original in nature and are a paradise for about 140 species of birds.
The park is also a rambler's paradise with a good network of marked trails running through much of it. If you love cycling, there are plenty of trails through narrow forest and sandy roads. An attraction, not only for the youngest, can be a ride on the historic railway.
The journey begins in Płociczno-Tartak and runs through the exceptionally picturesque forests of the Augustów Primeval Forest and the Wigry National Park, right on the shores of the wonderful Lake Wigry. The varied coastline, numerous bays and peninsulas, and the Czarna Hańcza river flowing through the reservoir make Wigry a trendy place among canoeists. This is easily one of the best attractions in the Suwalki region.
Stanczyki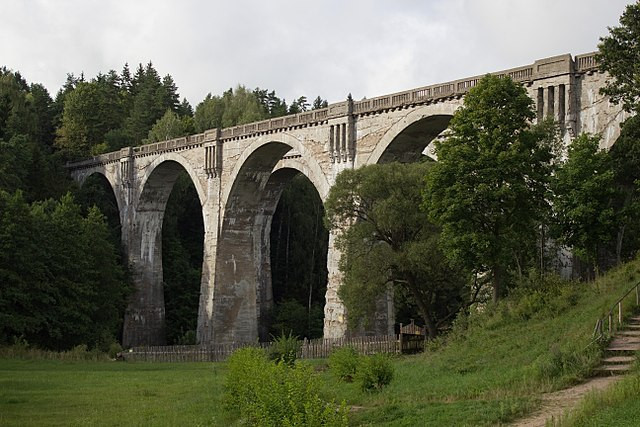 Honza Groh (Jagro) Wikimedia Commons
Being in the Suwałki region, you can't miss amazing buildings called Aqueducts of the Romincka Forest, located in the small village of Stańczyki. The huge viaducts in Stańczyki are almost 200 meters long and approx. 36 meters high. Until recently, viaducts were a favorite spot for bungee jumping enthusiasts until they were banned for safety reasons.
Bridges in Stańczyki is a unique monument that attracts attention from a distance. Trains used to ran here several times a day from 1927 to 1945. After World War II, the Russians dismantled the tracks and took them deep into the Soviet Union. Fortunately, the bridges were not blown up and have survived to this day.
Today anglers, tourists, mushroom pickers, couples in love, and skiers admire this odd spot. It is worth mentioning that on the Gołdap-Żytkiejmy railway route, we can also find other noteworthy bridge structures – including the railway viaduct in Kiepojcie and two twin bridges over the Błudzia River.
Sejny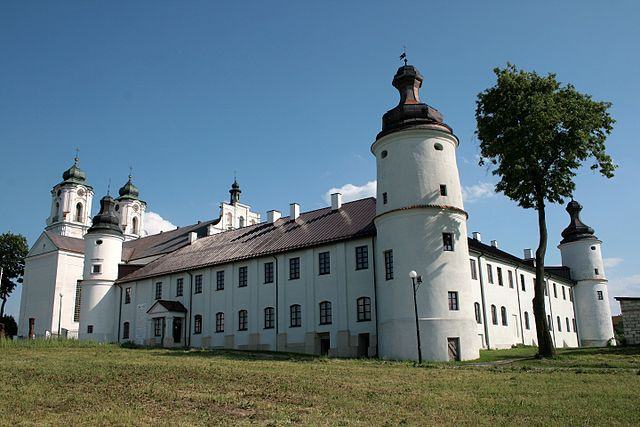 Laima Gūtmane Wikimedia Commons
This small town, situated on the Polish-Lithuanian border on the Marycha River, is characterized by a rich history and culture. It is a significant center of the Lithuanian minority, with an irregular urban layout, based on trade routes from the city's previous location.
If you tour this sleepy little town, make sure to head to the former Dominican monastery. You should also check out the town hall and the white synagogue with the former Talmudic house.
Sejny is now a real border town and is inhabited by Poles, Lithuanians, and Russian Old Believers
Where To Stay?
Great for couples – Palac na Wodzie Falkowski
Great location – Rezydecnja Rodzinna
Great views – Siedlisko Zatoka
The Best Travel Resources
Booking.com – very good global booking engine, they have a very comprehensive database of locations and hotels to choose from.
HotelsCombined – hotel booking site focused on finding you the best variety of rates. Save you time by looking at hundreds of providers.
Get Your Guide – great platform to book endless
activities, tours and tickets for attractions across the world.
Discovercars.com – price comparison and bookings website for cars, at very affordable prices, one of the best on the market.
Omio – great platform for booking trains, buses and flights in Europe.