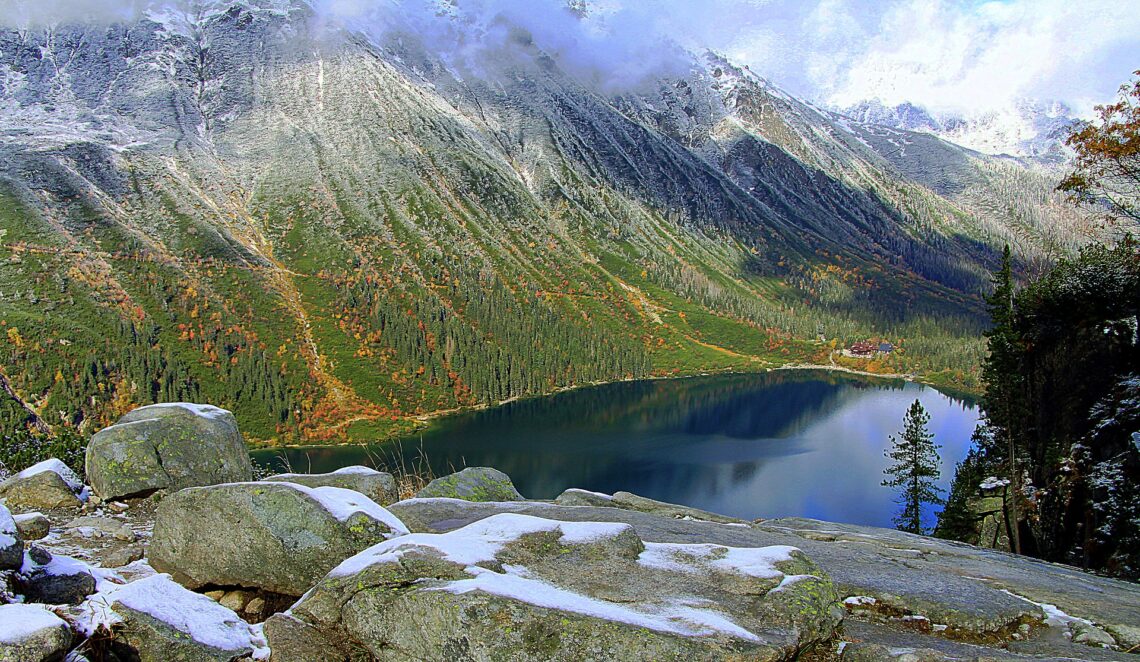 Zakopane doubles as Poland's winter capital and a famous resort town for foreign travelers in the summer. It's proximity to Krakow also made Zakopane what it is today, a popular tourist destination. Most people come to this city for its charm, Krupowki Street famous for its international stores and, more importantly, Morskie Oko – the most beautiful spot in the region, with endless stunning views.
Morskie Oko Overview
You might have bumped into pictures of this beautiful lake online, and they look so unreal. Well, this is because you haven't visited the lake firsthand. Surrounded by the Tatra Mountains, Morskie Oko is, without a doubt, the most beautiful of the Tartra lakes.
And in terms of size, it is also the biggest, covering around 35 hectares and stretching over 800 meters in length. Its location in the middle of the mountain made it look as if you're in a crater. The lake was formed by glaciers in the mountains. Fondly called the Eyes of the Sea, many travelers find Morskie Oko a delightful place to visit.
Logistics 
The main gateway to Morskie Oko is through Zakopane. From there, you can either travel by rental car or opt for a bus to take you to Morskie Oko. The parking fee applies to those traveling by car. The parking lot is located in the Tatra National Park.
The primary task of the shuttle buses is to take hikers back and forth all day. Buses are already stationed there as early as 7 am. No matter your chosen transportation method, one thing is sure, you will find yourself at the beginning of the hike.
Travel Tip: Since this is one of the best hikes that Zakopane has to offer coupled with its popularity, be sure to go as early as possible. If possible, try to join the first bus of the day to Morskie Oko hike. This way, you can enjoy the beauty of the place even more before it gets crowded.
What to Pack?
Water
Cash
Tissue
Hand sanitizer
Athletic clothing
Comfortable walking shoes
Lunch or snacks
Why Morskie Oko?
No doubt, Zakopane is home to lots of beautiful hikes, but why choose Morskie Oko? This particular hike is considered by many as more of a walk, making it one of the best for travelers, including families. Don't be surprised by the number of families you see along the way, as the hikes are perfectly suited to people of all ages, thanks in part to its paved terrain.
The most outstanding feature of this hike is the famous "Eye of the Sea" – one of the most magical lakes in Poland. With about 50 meters in depth, Morskie Oko Lake has varying fish species that call it home. The prospect of the surrounding mountains makes it even more overwhelming.
Once you get your first look at the emerald-green lake, you'll see why many travelers keep planning a trip back to Zakopane, Poland. You'd b  blown away by the unusual crystal clear water underneath the beautiful mountains. After a quick break and enjoying the stunning views, take a walk around the lake.
Hiking Morskie Oko takes 2 hours. There are a couple of bathrooms along the way. Equally impressive are the signposts that guide you through the hike, so it's hard to get lost. Also, you will find a lot of picnic spots as you go uphill.
If you're looking for the easier way up the hill, book a horse ride. However, the horse ride doesn't take you to the top, so you'll still have a 20-minute walk that takes you to the top. There are certain areas where horses are prohibited.
Hiking Options
There are basically two ways to explore Morskie Oko. First, by foot (the most recommended option), and second by horse carriage or sleigh ride.
On Foot
The most recommended option is to explore the area on foot. Getting to the top takes around 2 hours on foot. One of the unique features of the hike is the Morskie Oko Mountain Hut. Dating back to 1908, the hut will definitely keep you entertained with its offerings, including comfortable accommodation, great-tasting food, lovely drink options, souvenirs, and books that contains insightful information about the Tatra region.
Worthy of mention is the hut's veranda, a perfect spot to admire the stunning views before you. This is indeed a great place to relax and unwind before exploring the lake itself.
Horse-Carriage
This is a popular option amongst families with kids. Obviously, you'll have to pay to carriage up, but keep in mind that the price is negotiable.
More so, price depends on varying factors such as weather and the number of passengers. If you choose this option, getting to Morskie Oko takes approximately one and a half hours. There's a short stop along the way by the Mickiewicz's Waterfalls. These waterfalls are gorgeous.
When to Go?
Summer is the busiest time of the year for this route. If you'd like to avoid the crowds, then do not visit during the summer months. Instead, plan your trip in spring or autumn.
No matter the time of year, be sure to visit the lake on or before 2 pm, to afford you enough time to explore so you don't miss out on the most impressive sights. If you're highly experienced when it comes to hiking, then you can add Rysy (the highest of the Tatra peaks) to your to-do list. Avoid visiting during winter as some of the trails can get icy.
A hike to Morskie Oko is extremely popular for various reasons. First, it is best suited for families and a great way to see kids and young adults getting up close and personal with nature. Secondly, the lake offers a wide range of hikes for all fitness levels. Be sure to visit early so you can beat the crowd. Rest assured, you'll never regret planning your trip to this fantastic spot
The Best Travel Resources
Booking.com –  very good global booking engine, they have a very comprehensive database of locations and hotels to choose from.
HotelsCombined – hotel booking site focused on finding you the best variety of rates.  Save you time by looking at hundreds of providers.
Get Your Guide – great platform to book endless
activities, tours and tickets for attractions across the world.
Discovercars.com – price comparison and bookings website for cars, at very affordable prices, one of the best on the market.
World Nomads – If you're going for a trip abroad, it's good to have travel insurance in case something goes wrong.
Omio – great platform for booking trains, buses and flights in Europe.
NordVPN – With NordVPN you can securely access apps, websites, and entertainment platforms from anywhere in the world.