Etnographic Park in Tokarnia, Poland
Have you ever wanted to go back in time? If so, head over to an open-air museum in small village Tokarnia to feel the atmosphere from hundreds of years ago and see how the Polish countryside used to look like. The charming village is one of the most beautiful journeys to the past you could ever go. Imagine a world with no paved sidewalks, huge open space, and typical countryside tranquility. Ready to explore? Then keep on reading.
What to see there?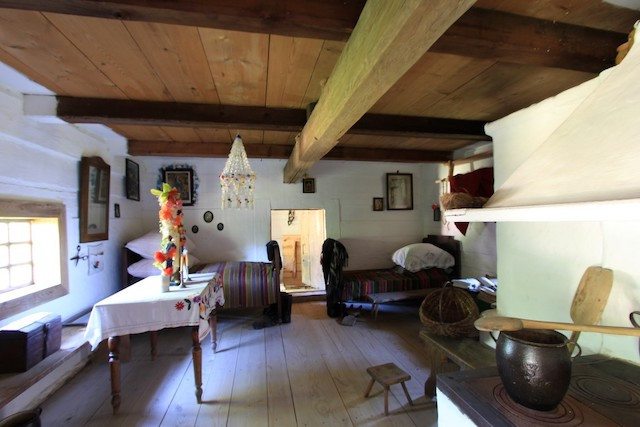 photo credit: https://mwk.com.pl/
What strikes the most are solid old houses that appear to be abandoned and calmly waiting for their owners. While wandering along the paths between the old houses, you can see what life used to be like, and even take a look inside. There are many interesting buildings to explore, from the magic manor, proudly standing belfry, old windmill to granary and beautiful cottages.
All objects are equipped with typical furniture and simple tools, some showcase workshops of rural artisans with equipment, such as a shoemaker or a carpenter. The interiors of the buildings are open to the public. This walk takes visitors on an intriguing journey that delights, educates, and raises many questions.
How much time do I need for sightseeing?
Seeing all the places takes a minimum of 3 hours of walking. But it depends on you how much time you allow for sightseeing. You might even stumble upon interesting temporary exhibitions or festivals and themed events throughout the year. In that case, you may wanna spend the whole day there enjoying polish folklore.
Spending the night in the open-air museum
For those seeking a unique experience, the museum has also prepared the possibility of accommodation. You will sleep in comfortable rooms in the cottage from 1914. Set among gorgeous surroundings hotel offers visitors relaxation in the fresh air, amongst countryside nature.
History
The Ethnographic Park in Tokarnia is an implementation of the scientific assumptions of the ethnographer and expert of traditional folk culture, Professor Roman Reinfuss. The outstanding ethnographer intended to recreate a typical settlement pattern from various parts of the Kielce region.
The park began to function in 1977, and the choice of location was not accidental. Due to the terrain, Tokarnia almost perfectly allowed to reflect the landscape of various subregions of the Kielce county. A several-kilometer walk will enable us to smoothly move between the highlands and lowlands, perfectly imitating the local conditions.
Location & Getting there
Tokarnia open-air museum is situated on route nr 7 linking Krakow with Warsaw, about 20 kilometers from the capital of the region Kielce. You may wanna combine a trip to the Tokarnia with a visit to Raj cave and castle in Checiny as they are closed to each other. I would suggest renting a car as this region has no best transport links with these remote attractions.
For transportation tips in Poland, check out this post.
To sum it up
The Ethnographic Park in Tokarnia is a place that I recommend visiting. Ideally, you wanna see this place during summer on a beautiful sunny day. Due to the massive area of ​​the park, you do not have to worry about crowds, even on weekends.
Those seeking more thrilling experiences should come to Tokarnia when events happen here and the place begins to bustle with life. Visitors can try local delicacies, watch thematic shows and participate in numerous competitions.